WV- CAG's beginning.....
The West Virginia Citizen Action Group (WV-CAG) was organized in the fall of 1974 to, in the words of The Charleston Gazette, "ensure that the public interest be expressed and represented before the state's decision-making instrumentalities." Over the years, WV-CAG has worked on countless issues, sometimes within a coalition, sometimes with political leaders and other times as a lone voice. Here's our timeline for our first 30 years:
WV-CAG founder David Grubb had returned to West Virginia after working for consumer advocate Ralph Nader and he toured the state talking to potential supporters about the prospects of forming a statewide citizen organization designed to represent the interests of average citizens.
In less than three weeks, David had obtained pledges exceeding $10,000 to provide the "start-up" money for this idea. The earliest supporters included Jay and Margaret Stern of Parkersburg, Ned Chilton of Charleston, Jay and Sharon Rockefeller of Buckhannon and Ralph Nader.
1974 - 1978
WV-CAG releases an in-depth study that documents over 400 synthetic chemicals suspected of being routinely discharged into the Kanawha River. This report is later cited as an important contributor to the passage of the federal Safe Drinking Water Act of 1974.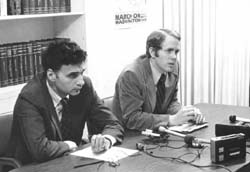 David Grubb with Ralph Nader at a WV-CAG press conference, cira 1970's
Passage of a state freedom of information act, the enactment of prescription drug price posting/generic drug substitution legislation, the abolition of the automatic fuel adjustment clause and the repeal of the state consumer sales tax on food highlight WV- CAG's participation in its first legislative session in 1975. WV-CAG also releases reports on the impacts of modern strip mining on water resources and sex discrimination in the hiring practices of public and private employment agencies. Founder David Grubb enrolls in the WVU College of Law.
In 1976, WV- CAG's "Unregulated Air Pollutants: The Chemical Industry," recommends stronger controls on toxic emissions and stricter standards for the storage and transportation of highly toxic compounds. "The Disservice of the Public Service Commission," WV- CAG's first utility rate reform report, is published. Harry Chapin performs the first of what will become a series of benefit concerts.
In 1976, full-time staff monitors legislative activities. WV-CAG staff member Ed Light is named to President Carter's Energy Roundtable.
In 1978, WV-CAG releases an updated toxic air pollution report that reveals a total of twenty-five suspected carcinogens in the Kanawha Valley's air. The group successfully lobbies for the passage of a generic drug substitution law and releases its annual legislative scorecard.
Report: "Organics in the Kanawha: How Safe?" - 1974
Report: "76 Unregulated Air Pollutants in the Chemical Industry" - 1976
Passage: Generic Drug Law - 1978
1979 – 1983
Establishment of Mountain Stream Monitors - 1979
Establishment of Consumer Advocate within the PSC - 1980
Defeat of $750 million Road Bond Amendment and establishment of WV-CAG door-to-door canvass - 1981
Report: A Plan for Action - Utility Reform Act in WV - 1982
Passage: Utility Reform Act in WV and Surface Owners Bill of Rights; establishment of Postcard Voter Registration - 1983
1984 - 1988
Based on the belief that all citizens have certain rights to be safe from harmful exposure to toxic substances, WV-CAG launches a statewide toxics campaign. The campaign's importance is highlighted by the MIC leak in Bhopal, India.
Staff includes David Grubb, Perry Bryant, Anne Romance, Scott Walker, Clark Sheldon-Whiteside, Marvin Wanetick, Barbara Dungey, Chuck Hampsher, Jim Worthington, Dave Parry, Kent Moreno, Chris Bathurst, Kathy Hamsher, Jeanne Vencill, Dave Wibberg, Lizz Frost, Will Carter, Sylvia Ward, James Spencer, Mary "Ginger" Kessell, Jeff McCroskey, Kathy Josephson, Cheryl Sheldon-Whiteside.
WV-CAG successfully argues an important First Amendment case before the state Supreme Court, establishing the right of our canvass program to communicate with citizens at their doors about key issues of public importance.
A daily presence at the Legislature consists of David Grubb following utilities and health care issues and Perry Bryant working on consumer and environmental (especially water quality) concerns. In 1984, WV-CAG receives the Midwest Academy's coveted lifetime organizing award for its utility rate reform work.
David returns in 1986 after serving as director of the state's consumer protection office for a year. Perry departs but during the transition water quality standards remain a high priority.
A huge political battle looms over the establishment of the Department of Environment and the effort to keep it nonpartisan. WV- CAG's pushes to ensure that DOE would and could be required to enforce water quality standards objectively.
In 1988, David Grubb is elected to the House of Delegates. WV-CAG receives a $25,000 grant from the Virginia Environmental Endowment for a groundwater public education project. WV-CAG hires its first environmental coordinator, Norm Steenstra, since Perry's departure in 1986.
"Cit PAC" created leading to Sondra Lucht's election to WV Senate - 1984
Coordinated national and international media attention on similarities of Bhopal, India and Institute, West Virginia - 1985
WV-CAG staff testified before two Congressional hearings on citizens' "Right to Know" facts on toxic chemicals - 1986
1989-1993
WV-CAG launches the Mountain State Health Care Coalition as a vehicle to unite groups working toward universal health care.
Missy Wolverton is hired as a grassroots organizer and coordinates statewide efforts to halt out-of-state garbage.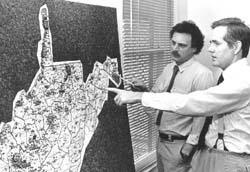 "Connecting the Dots" WV-CAG releases report: Groundwater - A Resource at Risk. Norm Steenstra and David Grubb, 1989
The West Virginia Environmental Council is formed and staffed by WV-CAG. Major environmental bills are passed on issues including groundwater, recycling, solid waste, incineration, nuclear waster and hazardous waste.
Battles such as out-of-state garbage, McDowell County landfill, the Mason County pulp mill, Barbour County landfill are fought and won. Executive Director David Grubb serves two terms in the House of Delegates and is elected to the State Senate. WV-CAG backed candidates such as Senators Mike Withers and Don MacNaughton are elected.
Key staff members include Missy Wolverton, Wendy Radcliff, Courtney Morrow, Norm Steenstra, Sheila McEntee, Jed Purdy, Charles Tinsley and Melinda Carter.
Report: "WV Groundwater and Resource At Risk"; Passage: West Virginia Recycling Act - 1989
Passage: Land Fill Referendum Act; Formation of the West Virginia Environmental Council - 1990
Passage: Comprehensive Solid Waste Act - 1991
Passage: WV Groundwater Protection Act and WV Hazardous Waste Referendum Act - 1992
Creation of DEP Environmental Advocate Office - 1993
1994-1999
WV-CAG continues to be involved in virtually every environmental issue as the political climate turns increasingly more anti-consumer and anti-environment.
David Grubb leaves WV-CAG to start a private law practice and is defeated in his bid for reelection to the State Senate. WV-CAG staff organizes coalitions on health care, election reform, electric deregulation, Victims' Rights, the Kanawha State Forest, and Mountaintop Removal.
Norm Steenstra becomes the Executive Director and WV-CAG moves its offices to the basement of 1324 Virginia Street. Key staff members include Denise Poole, Rick Eades, Dot Henry, Linda Mallet, Kim Baker and Gary Zuckett.
Election reform and Victims' Rights evolve into major WV-CAG issues. WV-CAG, working with the People's Election Reform Coalition, publishes an in-depth analysis of the role of special interests in the 1996 and 1998 elections for the first time in West Virginia history.
Through a 1998 Virginia Environmental Endowment grant, the West Virginia Citizen Research Group, WV- CAG's research "arm", releases "Dioxin Contamination of the Ohio and Kanawha Rivers." This report is a comprehensive and historical recount of industry's legacy of pollution and its effect on our waterways and citizens. The effort leads to US EPA declaring parts of the Nitro area a Superfund site.
Nuclear power generation banned in West Virginia - 1994
Creation of an 80-acre Passive Park in No. Charleston - 1995
Defeat of Mason County Pulp Mill Proposal and "Dirty Secrets" Environmental Audit Bill - 1997
First PERC Report released on Special Interest Campaign Donations; Report: "Dioxin Contamination of the Ohio and Kanawha Rivers" - 1998
Passage: law prohibiting timbering in Kanawha State Forest; successful campaign to save the Capitol trees - 1999
2000-2004
Second PERC Report released; lawsuit challenging the Budget Digest Process - 2000
After 28 years we move out of the nest and on to 1500 Dixie St.; Third PERC Report released - 2001
Defeat of Overweight Coal Truck bill in special session - 2002
Successful Supreme Court challenge to the constitutionality of the Economic Development Authority Bonds; Fourth PERC Report released - 2003
Passage: "Water Quantity" bill declaring the state's ownership of its waters - 2004

2003 E-Day at State Capitol
WV-CAG lobbyists Julie Archer, Keri Conte and Linda Mallet
photo by Vivian Stockman
2005 - 2008
In February 2005, WV-CAG becomes part of a statewide coalition aimed at protecting America's most successful anti-poverty program, Social Security. The coalition, West Virginians United to Protect Social Security, includes a diverse array of advocates, women's groups, disability organizations, labor unions, retiree organizations and professional organizations, and is committed to coordinating our efforts to protect Social Security from privatization and cuts in guaranteed benefits. Over 1000 West Virginians sign our petition urging our members of Congress to pledge to oppose Social Security privatization, which would have cut guaranteed benefits, increased the federal deficit, opened Social Security up to corruption and Enron-ization and possibly raised the retirement age.
After launching Project MoVote, WV-CAG is active in large voter registration and civic engagement projects in both 2004 and 2008, focusing on communities of color, low-income and other disenfranchised populations, registering over 7,500 new voters in 204 and thousands more in 2008. WV-CAG becomes more active in federal issues working in coalition with WV United on a successful state level effort to protect Social Security from privatization and cuts in guaranteed benefits.
At a state level, WV-CAG supported the formation of and worked with West Virginia Citizens for HAVA (Help America Vote Act), a grassroots group promoting accurate and secure voting technology for West Virginia elections. With the help of Verified Voting, our groups successfully lobbied for the passage of legislation requiring a voter-verifiable paper ballot for all voting systems used in West Virginia.
WV-CAG works in conjunction with other organizations to educate legislators and the public on the need to regulate 527 committees involved in state level campaigns. These efforts result in the nation's first state law regulating contributions to 527 organizations.
Norm Steenstra leaves WV-CAG to run the Kanawha County Solid Waste Authority. Long-time CAG staff member Gary Zuckett takes over as Executive Director.
WV-CAG helps form a new coalition to address the proposed reformation of our state's tax code by governor Manchin. WV-CAG is one of 21 state organizations that signed onto a "Statement of Principles for Tax Fairness." Coalition partners participate in the Governor's Tax Modernization Committee public Tax Summit to promote these fairness principles – 2006
WV-CAG starts the WV Surface Owners' Rights Organization (WV SORO) to focus on educating landowners from abuses by oil & gas drillers – 2007
Renewed Project MoVote campaign and Million Doors for Peace, a national anti-war mobilization focused engaging people about the war and its costs - 2008

WV-CAG staff Norm Steenstra III, Gary Zuckett, Linda Frame,
Robin Wilson, Marge Michau and Julie Archer April 2008
Check our newslinks to see what we've been doing recently:
General CAG News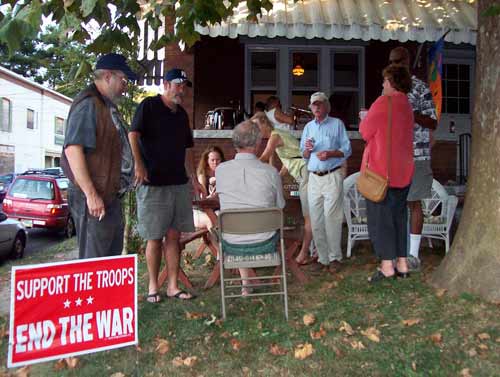 CAG Members Come Together For First Friday Celebration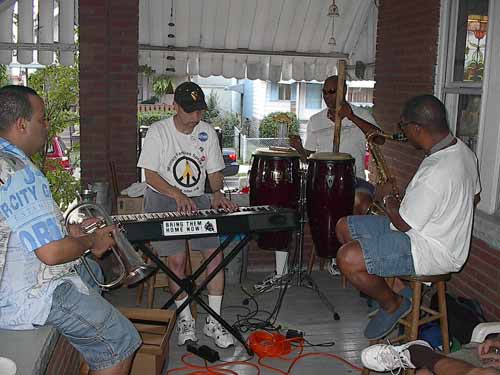 Musicians On the Porch For First Friday