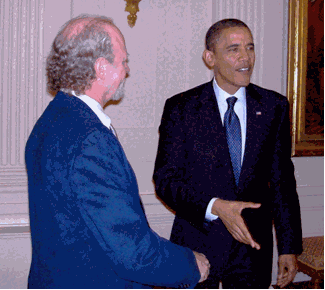 Dear Citizen Activist,
Yes, that's me at the White House on November 1st for a "Jobs for America" working group meeting.
I've never before had the opportunity to shake hands with a US President! WV Citizen Action was there representing USAction, our national coalition because of all the work we've done with labor this year to support the Jobs Campaign.
With your contributions and support, we've been able to fight for a cleaner environment, more progressive politics, and economic & social justice both here and in Washington for the past 37 years. Below are some of the highlights from 2011:
Working with Labor to make a better tomorrow
Brought hundreds of West Virginians to the State Capitol to rally in support of Wisconsin public workers
Staged two large public events at deficient bridges in Charleston and Beckley (with Rep. Rahall) to amplify the need to invest in our infrastructure and put us back to work
Released three widely covered transportation reports on Bridges, Seniors, and Safer Streets
Clean and Fair Elections
Candidates for the WV Supreme Court can now run without taking any special interest money through the public financing pilot project that WV-CAG helped implement.
Promoting Amendment to undo "Citizens United" – Corporations are NOT People!
Fighting to strengthen reporting requirements on state election spending
Registering voters and getting them out to vote!
Encouraging Progressives to run for office
Cleaner Air & Water for Future Generations
Fighting for stronger Marcellus drilling regulations – see
www.wvsoro.org
Free Home Energy Audits and other Energy Efficiency programs now available as a result of our interventions at the WV Public Service Commission - see
www.eewv.org
Working in Coalition with other Progressives to Build Power
West Virginians United for Social and Economic Justice
West Virginians for Affordable Health Care
West Virginia Citizens for Clean Elections
Energy Efficient West Virginia
AFL-CIO & local Labor Councils
WV Association for Justice
I'll wrap it up by saying that, although we live in critical times, WE'RE GAINING MOMEMTUM! Your support now will empower us to keep up the fight FOR THE 99% and stay in it to win it! You can read more in our latest

newsletter.

Please take a minute and make an end-of-the year tax deductable donation and/or renew your membership. Our Democracy is at risk – Now is the time to fight back with all we've got!

Sincerely,

Gary Zuckett, Executive Director,

WV Citizen Action and WV Citizen Action Education Fund

P.S.: See more of what we've been up to - "like" our page on

Facebook and check out our videos on YouTube!

WV-CAG/WV-CAEF Membership/Support Form

Name ______________________________________________________________

Address_____________________________________________________________

City ________________________________ State __________________ Zip _____

E-mail ______________________________ Phone __________________________

$________ made payable to WV Citizen Action (WV-CAG) (not tax deductible).

You can also donate on our website via PayPal at
www.wvcag.org
and/or
$_______ made payable to WV Citizen Action Education Fund (tax deductible).
Please mail checks to: WV Citizen Action or WV-CAEF, 1500 Dixie Street, Charleston, WV 25311