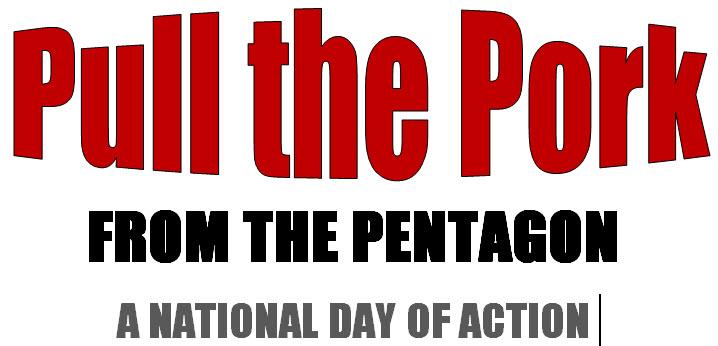 Across the country, grassroots activists are standing up to make their priorities loud and clear. The middle class is the source of American power, and it's time Congress listened to us, not Pentagon CEOs. As a decade of war comes to a close, it's time to rein in wasteful Pentagon spending.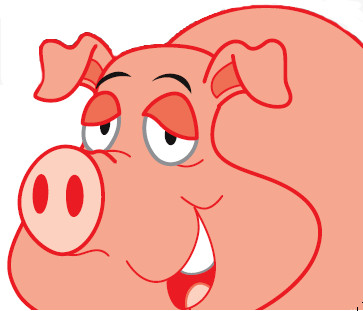 Call Congress today!
(888) 872-1238
Tell the Senator's staff your name and that you are a constituent and voter from (your town), and urge your Senator to Pull the Pork from the Pentagon.
· We can reduce the bloated Pentagon budget by $50-$100 billion a year by cutting obsolete weapons systems, excess nuclear capacity and ending corporate welfare for Pentagon contractors and their CEOs.
· These cuts can be made without cutting military pay or veterans health care, and without harming our national security or our troops.
· Those billions in savings should be invested into our communities, into vital programs, like housing and health care for veterans and struggling families, education, Medicaid, Medicare, Social Security and repairing our crumbling schools, bridges, and water supply systems.
Protect our Priorities.
Protect the Middle Class.
For more information visit: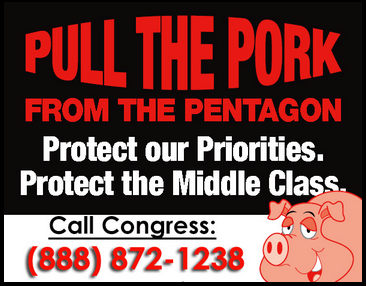 Public Hearing on Allowing More Toxic Selenium in WV Streams
Meet up at 12:00 P.M., Thursday, February 28, 2013
in the Cafeteria at the West Virginia Capitol
The Hearing will take place at 1:00 P.M. in the House Judiciary Committee Meeting Room (Room 410M).
Tell the Legislature
Do NOT allow MORE selenium in West Virginia Rivers and Streams.
HB 2579, introduced just six days ago, would eliminate the compliance schedules for coal companies to meet the current EPA water quality standard for toxic selenium, and mandate that the Department of Environmental Protection issue new "state-specific" selenium standards that could be weaker than the current EPA standards.
This bill is being pushed by the WV Coal Association and has been put on the fast track for adoption by the House Judiciary Committee. However, Judiciary Committee Chairman Tim Miley (D-Harrison) has granted our request for a public hearing on this terrible piece of legislation.
Selenium is a naturally occurring element that ends up in rivers and streams when rock and soil from mountaintop removal sites are discarded. In small amounts, it is harmless, but some studies have found that it is toxic to aquatic life and humans in larger amounts. Recent studies have found fish samples taken from Mud River, close to a large mountaintop removal mine site, exhibiting deformities.
The public hearing is your chance to tell legislators that you do NOT want MORE selenium in West Virginia rivers and streams, and that coal companies must be required to remove it from their stream discharges.
For more information & RSVP call:
Denise Poole (304) 617-8402
deniseap@earthlink.net