Dear Citizen Activist,
Ending the Government Shutdown, Increasing the Minimum Wage, Medicaid Expansion, Energy Efficiency, Regulating Marcellus Shale Drilling, "Citizens United" vs Clean Elections. The list of our campaigns this year could fill this whole letter.
Thanks for receiving our Citizen Action Alerts - we appreciate your on-line support!
Your financial support will also made it possible for us at WV-CAG to continue addressing the pressing social, political and environmental justice struggles this coming year!
Support our fight for your rights by Renewing or Becoming a WV Citizen Action Member
For the past 39 years, your Citizen Action Group has been there fighting for what's right and opposing the Polluters, the Banksters and other corporate special interests who seek to twist our laws to maximize profits and externalize costs onto both society and the environment.
<![if !supportLists]> · <![endif]> Did you know that radioactive Marcellus drilling waste is being dumped in our municipal landfills with no monitoring and no limits? WV-CAG will be fighting toxic waste in our landfills.
<![if !supportLists]> · <![endif]> Did you know that West Virginians have some of the cheapest electricity rates in the nation but consume more per capita than almost anywhere else? WV-CAG continues to push the PSC and Legislature for more Energy Efficiency programs and legislation.
<![if !supportLists]> · <![endif]> Did you know that WV is one of very few states offering public financing to Supreme Court candidates so they can't be bought by special interest groups? WV-CAG helped lead the campaign to enact this voter-owned option and is working to expand the option to all state legislators.
<![if !supportLists]> · <![endif]> Did you know that over 45,000 WV citizens have already signed up for Medicaid coverage under the Affordable Care Act? WV-CAG was the state leader for Health Care for America Now, the national coalition that helped pass health care reform.
With your membership contribution,
we are able to keep fighting for the causes that are important to all of us!
Support our fight for your rights by Renewing or Becoming a WV Citizen Action Member
Please, take a minute to send in your renewal now.
Your support will help make our 40th year our most productive!
Sincerely,
Gary Zuckett, Executive Director
Ps: below are our recent actions against the government shutdown and for an increase in the minimum wage.
____________________________________________________________________________________
Rally Supports Nationwide Minimum-Wage fight - Charleston Gazette, 12-5-2013
Chris Dorst
People from the Citizen Action Group and American Federation of Teachers demonstrate outside McDonald's on Washington Street East in favor of raising the minimum wage for fast food workers.
CHARLESTON, W.Va. -- More than 50 people gathered outside McDonald's on Washington Street, near the state Capitol, at noon on Thursday to protest low wages paid to fast-food workers.
It was part of a national day of protest in 100 cities nationwide led by the Service Employees International Union.
Brooke Drake, events coordinator for the West Virginia Citizen Action Group, said current fast-food workers were scared to join the protest.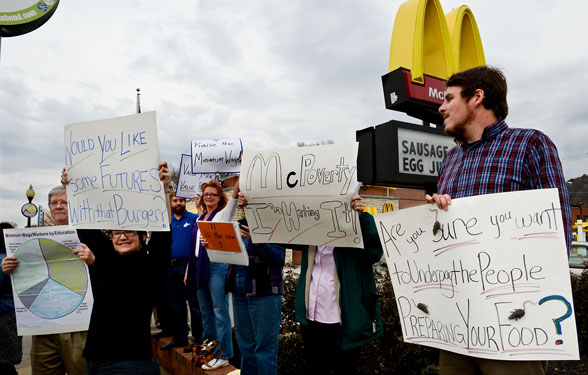 "I spoke to them. They are afraid to come out. They can't be seen. They are afraid they will be fired immediately," said Drake, who previously worked as a waitress. "But they are here in spirit."
Chanting "Hey Ho. Poverty Wages Have Got To Go," many people at the rally held up signs, reading: "Raise Pay to a Livable Wage"; "McPoverty -- I'm Hating It"; "Raise Their Pay - I'm Loving It".
Thursday's rally was organized by West Virginians United, a newly formed coalition including members from labor unions, women's organizations, social workers, public interest groups and the West Virginia Council of Churches.
Christine Campbell, president of the American Federation of Teachers in West Virginia, said, "We are out here supporting an increase in the minimum wage for workers. Across the country, the rich are getting richer and the poor are getting poorer. We have to do something to help the working class survive."
Sam Hickman, executive director of West Virginia's chapter of the National Association of Social Workers, held up a graphic showing the relations between education and earning the minimum wage of $7.25 an hour.
Nationally, 28 percent never graduated from high school, 31 percent have high school diplomas and 34 have some college courses or a two-year associate's degree. Only 7 percent have bachelor's degrees.
Rick Wilson, director of the American Friends Service Committee WV Economic Justice Project, said, "There will be a push in the state Legislature next year to get a higher minimum wage."
____________________________________________________________________________________