WOMEN & WATER Listening Session
This listening session is an opportunity for women to come together to discuss concerns around the recent water crisis.
Thursday, February 27th
7:00-9:00pm
Join us for a reception at 6:30pm
Unitarian Universalist Congregation
520 Kanawha Blvd. W, Charleston
This event is sponsored by WV FREE, People Concerned About Chemical Safety,
WV Citizens Actively Protecting the Environment, WV Citizen Action Group, and
WV Healthy Kids & Families.
Free and open to all women and families.
FREE Presentation! Climate Change: The Evidence, People and Our Options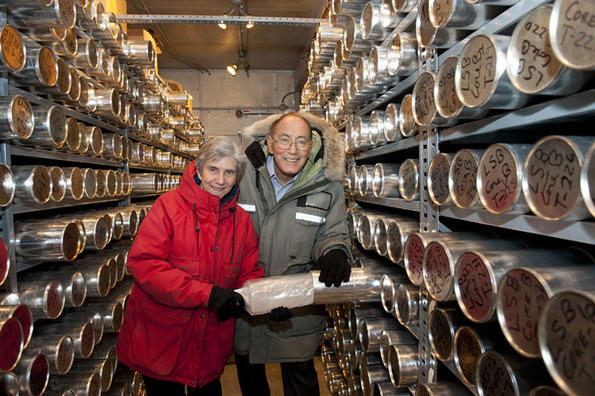 Husband-and-wife science team Ellen Mosley-Thompson and Lonnie Thompson are shown in a freezer with some of the ice cores they've gathered from around the globe to help understand climate change. Photo courtesy of Lonnie Thompson and Ellen Mosley-Thompson.
Special Evening Lecture For Free Tickets Call the Clay Center: 304 561 3515 or https://tickets.theclaycenter.org/public/ March 10, 2014
Please encourage your friends and neighbors to attend the climate change talk
Climate Change: The Evidence, People and Our Options
March 10, 2014
6:00 - 7:30 P.M.
Join us for a fascinating evening as Dr. Ellen Mosley-Thompson and Dr. Lonnie G. Thompson discuss the controversial topic of climate change. The lecture is free to the public but reserved seating and tickets are required. Free tickets may be reserved or picked up in advance and also will be available at the door the evening of the lecture.
Get tickets

About the presenters . . .

Ellen Mosley-Thompson

Distinguished University Professor, Department of Geography (Atmospheric Science)
Director, Byrd Polar Research Center, The Ohio State University
Dr. Mosley-Thompson is a native of Charleston, WV with a B.S from Marshall University and M.S. and Ph.D. from The Ohio State University.

For more on Dr. Ellen Mosley-Thompson click here.

Lonnie G. Thompson

Distinguished University Professor, School of Earth Science
Senior Research Scientist, Byrd Polar Research Center, The Ohio State University
Dr. Thompson is a native of Gassaway, WV with a B.S. from Marshall University and M.S. and Ph.D. from The Ohio State University.

For more on Dr. Lonnie G. Thompson click here.
Urge Legislators to Support Transparency in Elections by Supporting HB 4463
by Julie Archer
If there was a 'silver lining' in the 2010 U.S. Supreme Court ruling in Citizens United v. the FEC, it's that the court overwhelming affirmed that state can require those who 'pay to play' in our elections to fully disclose their financial sources. On Friday, the House Judiciary Committee advanced a comprehensive bill (HB 4463) relating to the disclosure of information on campaign contributions and spending. The bill would increase accountability and transparency in West Virginia elections by:
Expanding the window that prior to an election during which parties engaged in electioneering communications must disclose their contributors to the Secretary of State;

Requiring disclosure of "covered transfers" or

funds knowing spend or given to an intermediary for political purposes or campaign related disbursements;

Requiring certain information be included (in the form of disclaimers) in political advertisements identifying the parties paying for those advertisements; and

Requiring information regarding campaign related expenditures to be reported to shareholders, members and donors.
Unfortunately, conservative groups like Americans Prosperity don't want you to know who's really behind their efforts to influence our elections and are spreading misinformation about how HB 4463 restricts freedom of speech and freedom of association.
Call your delegate(s) now and urge them to support transparency in elections and accountability to shareholders by supporting HB 4463. Click here to find contact information for your delegate(s).
Listen to Julie Archer on Hoppy radio show Wednesday at 11:30 on 580AM in Charleston on on Talkline Website!
Water Safety Bill to be Debated in House Judiciary
by Norm Steenstra
SB 373, the Above Ground Storage Tank bill was discussed today in the House Judiciary Committee. The Committee will likely take up the bill and consider amendments at Wednesday's Judiciary meeting. Listen into House Judiciary Committee Meeting half an hour after the floor session!
Call Now on HB 2803 Integrated Resource Planning for Electric Utilities
by Gary Zuckett
This bill will allow the Public Service Commission to begin the process of having our electric utilities weigh in energy efficiency into the mix when doing long range planning on how they will meet future demand. It is a small step in the right direction so calls are needed to all House members since this bill is up for passage tomorrow during the floor session.