Tell Governor Tomblin to Sign the Minimum Wage Increase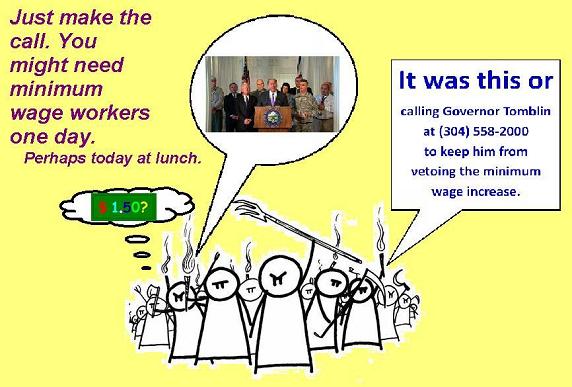 On his blog, Rick Wilson provides:
Many community, labor and religious partners joined together this year to support passage of HB 4283, a bill that would raise the state minimum wage. And we won, by a large majority in both houses of the state legislature.
Now, Brian Peterson, an attorney with the corporate law firm Bowles Rice, citing bogus problems with the bill, is urging Gov. Tomblin to veto it. This would deprive more than 125,000 hardworking West Virginians from a meaningful boost in their standard of living.
Some people really do want it all—but I don't recall anyone electing an elite law firm to ruin the lives of working West Virginians.
If you live in WV, please consider calling Gov. Tomblin NOW at 304-558-2000 and urging him not to veto HB 4283. Instead, he should sign it ASAP. Any technical problems with the bill can be resolved by the legislature in due course.
Read more here about why the Center on Budget and Policy wants Tomblin to sign
Don't Let Your Hot Showers Wash Away the Memory of Licorice
It's important for those people still concerned about tap water safety and the incident attend the WVTAP public meeting this Friday Mar 28 at WVSU from 9:30am to 3pm. Check out the event page
Andy Whelton, Assistant Professor at University of South Alabama, says turnout will be an indicator of public interest. If few people attend except media, the media's story could then state there is little public interest despite the $700,000 project. He doesn't think that's true however based on his discussions with everyone. If the public still wants answers to the questions they have been asking since the spill began, it would behoove them to attend and participate in the Q&A.
New tap water chemical analysis data will be presented Friday along with what we recommend are the next steps. And, there are next steps.
There will be an opportunity for the public to ask questions following the briefing.
During the event, the following information will be presented:
(1) Introduction to the WV TAP Team and Website
(2) The Crude MCHM Odor Threshold Study
(3) The Ten Home Study: Resident Interviews and Tap Water Analysis
(4) Examination of Tentatively Identified Compounds and their Implications
(5) Expanded Home Tap Water Monitoring Plan: Preliminary Results
(6) The Expert Panel
(7) Project Summary and Next Steps
Press release can be found here and attached.
http://www.dhsem.wv.gov/WVTAP/News/Pages/WV-TAP-Project-Team-in-Charleston,-West-Virginia-for-a-Public-Briefing-and-Convening-of-the-Expert-Panel-.aspx
Also, don't forget to sign the petitions Maya Nye set up so we can get a Listening Session for President Obama's Executive Order on Improving Chemical Facility Safety and Security.
The public comment for the E.O. ends March 31st. Over the next few days, I will work on drafting a sample public comment letter for your organizations. In the meantime, I am told by my national colleagues that we still need to be pushing for the Listening Session in Charleston until the last day. As such, I developed two petitions:
<![if !supportLists]> 1. <![endif]> Petition 1: Directly requesting the Department of Homeland Security to initiate a Listening Session in Charleston (this is Round 2 for this petition -- if you signed it before, it's okay to sign again...in fact, we need you to!)
<![if !supportLists]> 2. <![endif]> Petition 2: Asking our Congressional representatives and Governor to request a Listening Session on our behalf
Still Waiting for Supreme Court Ruling on Campaign Money
by Gary Zuckett
Most everyone by now has heard of the damage done to our election systems by the unfortunate "Citizens United" vs FEC Supreme Court ruling that allows the Koch Bros and other Million & Billionaires to buy whole states like North Carolina. This year the bull's-eye is on WV. To make matters worse, the Bush Supreme Court is now considering another case brought by a millionaire named McCutcheon which would further open the floodgates of cash by striking down direct aggregate contribution limits for federal candidates. We're planning a Rapid Response to this anticipated Supreme Court decision and looking for local folks who can show up on short notice to protest such a move by the court – hopefully the day of the decision.
If you are willing to come out for a 5 PM rally the day the supreme court publishes its ruling, give Brooke a shout at brooke@wvcag.org or call her at 346-5891. We'll let you know when to show up at the capitol under Sen Byrd's statue in the rotunda. We've already had a few responses, but let's have a few more! There might only be a few hours notice that day. Thanks!
Regenerate WV Political Action Committee to Hold Meet the Candidates Forum April 15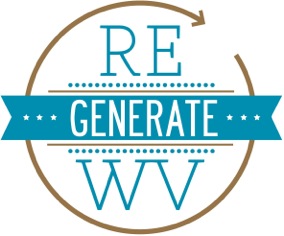 The 2014 House of Delegates in both the 35th and 37th Districts are in for tough primary races. Several good candidates will be joining a forum with Regenerate WV, a local Political Action Committee (PAC) focused on progressive issues. On April 15th, beginning at 5:30, an hour will be spent questioning the candidates from each of these districts. Come to the WVFree Office on the 3rd Floor of the YWCA at 1114 Quarrier Street in Charleston to learn more about your options.
Support the National Minimum Wage Hike!
A cross country bus tour will be stopping at the WV State Capitol to spread the word on the benefit of increasing the national minimum wage. Please join us at 1pm near the Liberty Bell on Wednesday April 2, 2014. We still need people who are willing to speak about this issue. If you are a low wage worker or exist in the small business community, please contact brooke@wvcag.org or (304)346-5891 to help the issue and visit this event page to keep up to date.
Tomblin Signed Pregnant Workers Fairness Act
Governor Tomblin signed HB 4284, the Pregnant Workers Fairness Act, into law. Thanks to the coalition that made that possible!
Town Hall Meeting Tomorrow: Trans-Pacific Partnership