Save the New Date for WV-CAG's 40th!
Please dig into your calendars and move the date for the WV Citizen Action's Big 40thAnniversary Celebration to:
September 12th, 2014
The location is still the ever-lovely Women's Club in Charleston
The new Fall Date will enable us to make this 40th year of WV Citizen Action one to remember!
An Evening of Films about Water and the Water Crisis - FREE
6:00-10:00 Tuesday, May 13, 2014
123 Summers Street, Charleston
Come see short films and short edits of films about the water crisis! The evening will begin with the award-winning documentary, Watermark, about the intersection between water and people. After Watermark, each water crisis short will be introduced and then screened. After all of the films have been shown, the presentation will be followed by a panel discussion including filmmakers, citizen advocates, and a representative from the Kanawha-Charleston Health Department.
Co-sponsored by Ohio Valley Environmental Coalition, Citizen Action Group, WV Rivers Coalition, and WV International Film Festival.
CAG and Energy Efficient WV are Hiring! Apply Today!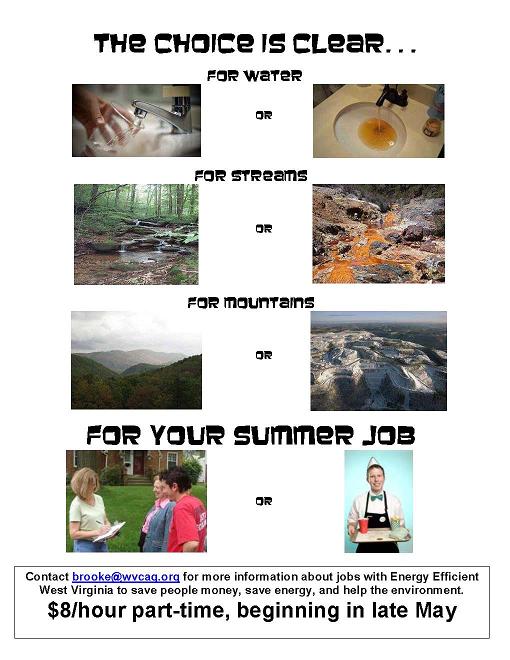 This summer, make a difference teaching people how to save energy and save money! e4 partners are hiring to do a four-week public education campaign in the East End of Charleston. Grassroots organizers will speak to 20-30 local residents each day about how they can make their home more energy efficient, and connect them to local businesses who can make the changes. Additionally, organizers will sign up East Enders to participate in a block-vs.-block energy savings competition.
For more information regarding the e4 campaign, please go to www.eastende4.com.

Requirements:
* Good verbal communication skills.
* An upbeat attitude.
* An interest in helping people save energy and save money.
* Ability to walk outdoors during the summer, including on stairs.

Helpful qualities (not necessary or required):
* Prior campaign experience.
* A personal interest in environmental protection.
* Living on or near the East End of Charleston.
* Education in political science, energy, or environmental science/policy.

This position is 24 hours per week (Monday through Thursday) for 4-5 weeks. Pay is $8 per hour.

e4 is an initiative made possible by the collaborative effort of the West Virginia Department of Energy, Energy Efficient WV, Charleston Area Alliance, City of Charleston, Appalachian Power, East End Main Street and the East End Community Association.