Join Us to Protest Big Money Lies



Tomorrow, Friday the 26th, come out to the protest rally planned outside the West Virginia State Medical Association, 4307 MacCorkle Avenue, SE Charleston, WV 25364, from 11AM-1PM.

This is a protest against the MILLION$ OF OUT OF STATE KOCH BROS' (and other Millionaires') money being spent to unseat 3rd District Congressman, Nick Joe Rahall.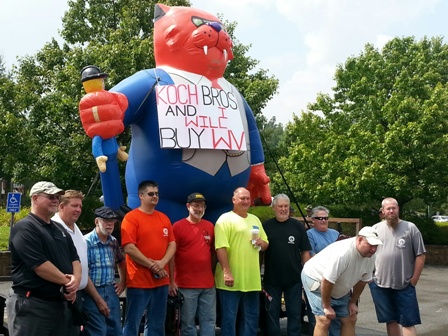 These Billionaires' money is being used to throw dirt at the incumbent in their scheme to take over the US Congress.


The State Medical Assoc. Director, Evan Jenkins, who is running against Rahall, works at this location and has failed to condemn the lies plastered all over the TV against the incumbent.


We are urgently requesting your presence at this push back rally (Street Heat)!
And we're asking that you bring your friends with you!

This street heat is being done jointly with the WV AFL-CIO and the Kanawha Valley Central Labor Council. Come show your UNION support as we fight the lies and outside money being poured into this state to defeat UNIONs!