–
Please join the for Health Care for All: A Community Conversation to discuss how we achieve health care for all. The forum, co-sponsored by West Virginians for Affordable Health Care, Fair Shake Network and Kanawha Valley Village People will be Sunday, October 14, 2-4 PM, at the Woman's Club of Charleston, at the corner of Virginia and Elizabeth Streets. This event is free and open to the public.
The purpose of the forum is not to discuss IF we should have universal health care, but HOW do we get there. Learn about various pathways to health care for all from Medicare for All to other state and federal health care coverage options, and how to become an advocate for quality, affordable health care.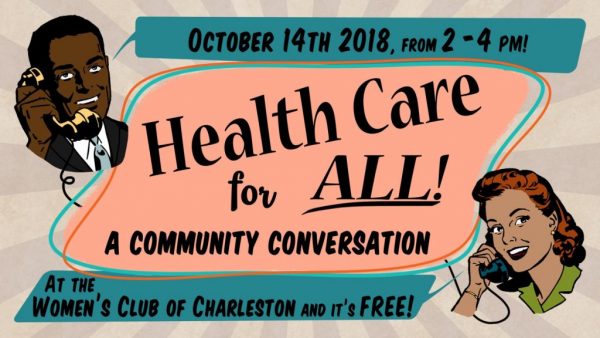 Featured speakers will be L. Christopher Plein, Ph.D., Professor of Public Administration and Eberly Family Professor for Outstanding Public Service at WVU with a specialty in public policy and research; Sharon Carte, M.H.S., former Executive Director of West Virginia Children's Health Insurance Program and former Deputy of West Virginia's Medicaid Program; Daniel B. Doyle, M.D., Physician at New River Health Association and Cabin Creek Health Systems whose specialty is health care policy, research and patient care; and, Kathleen 'Kat' Stoll, J.D., M.A. in Economics, Policy Director for West Virginians for Affordable Health Care (WVAHC) and Campaign Director for West Virginia Together for Medicaid. The panel discussion will be followed by Q & A from the audience.
Click here to register.