–
Moving Beyond Fear: Saving Lives and Protecting Neighbors During an Opioid Epidemic
Join us for a panel discussion and forum with public health experts to learn more about successful approaches from near and far that deal with the effects of opioids in our communities.
Featuring a special presentation by Susan Shepherd — Manager, Toronto Drug Strategy Secretariat
When: Saturday, July 28, 9:30 am to Noon
Where: Marshall University's Memorial Student Center (Room BE5), Huntington, WV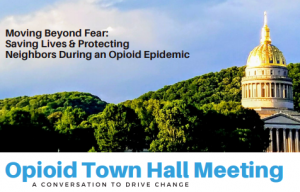 Panelists will include Shepherd; Dr. Michael Brumage, assistant dean for public health practice and service, West Virginia University School of Public Health; Alfgeir Kristjansson of the West Virginia University School of Public Health; and Amy Saunders, director of the Marshall University Wellness Center.
Topics of panel discussion include adverse childhood experiences associated with substance use disorder, prevention methods for adolescents, supervised safe injection sites, and systems approaches to addressing substance use disorder, particularly the Quick Response Teams.
**This is a FREE event and open to the public. All kinds welcome and encouraged to come!
Sponsored by: WV Center on Budget and Policy