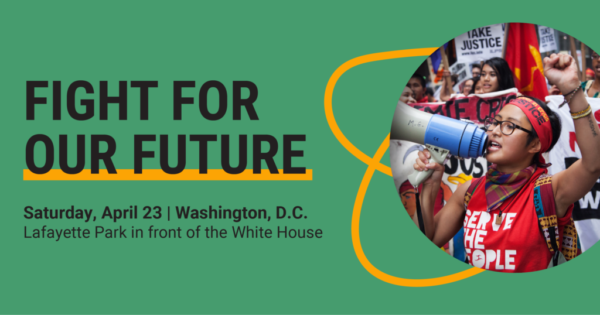 RALLY FOR CLIMATE, CARE, JOBS AND JUSTICE
President Biden and Congress are finally on the edge of taking climate action at the scale the crisis demands – creating millions of union clean energy and care jobs, racial, economic, and environmental justice are all on the line. But they won't take action without a push from us!
Sign the Fight for our Future pledge now, and RSVP to join us in Lafayette Square in front of the White House at 1pm on Saturday, April 23rd to demand bold action on climate, care, jobs, and justice!
Join The Rally! – https://www.mobilize.us/fightforourfuture/event/450012/ 
FREE BUS RIDES TO DC! 
For West Virginians, check out using the Promo Code FFOF100 to RIDE FREE!

Charleston – https://rally.co/booking/121591/53/trips
Fairmont – https://rally.co/booking/121591/21814/trips
Morgantown – https://rally.co/booking/121591/162/trips