–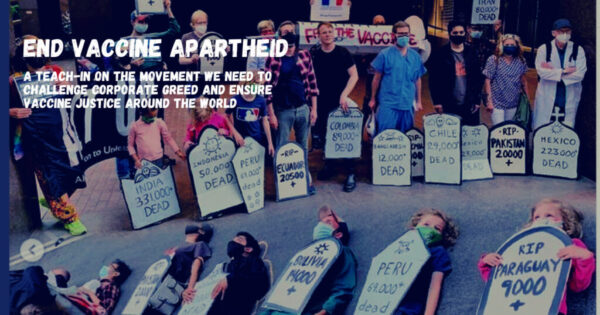 Only 0.03% of COVID-19 vaccines have been given to people in low income countries. If we do not come together now and fight the corporate greed of our Big Pharma companies, countless countries will be unable to vaccinate their citizens before late 2024.
This means needless untold illness, suffering, and death, AND the certainty that the virus will continue to mutate and sweep the globe. To defeat this virus anywhere, we MUST vaccinate people EVERYWHERE!  
Join us on Tuesday evening, July 6th from 5-7:00 p.m. Central (6-8 p.m. Eastern; 4-6 p.m. Mountain; and 3-5 p.m. Pacific) to hear about how we can all come together and create the change needed. You will hear from speakers who have experienced the different ways the COVID-19 struggle is playing out in other parts of the world.
We will have experts speaking on the soulless actions that Big Pharma is taking to extract profits from the misery and suffering of the entire human race. And we will hear from direct action experts who will share their best practices on getting boots on the ground and information on actions that can be taken NOW.