–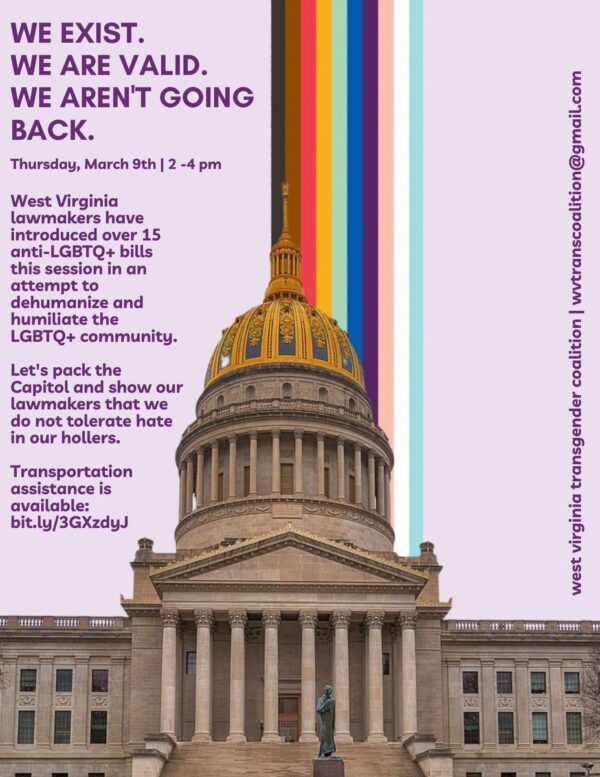 From @ash_in_wv: We need as many people as possible to show up to the WV State Capital Thursday, March 9th at 2pm to protest the anti-LGBTQ+ bills that have been introduced and passed this legislative session. It's time to show our lawmakers that the LGBTQ+ community of WV will not tolerate these attacks on our rights and freedoms. We will continue to organize, to care for one another, and to fight the good fight.
See Facebook event dicussion for more information. 
More than a dozen introduced bills could roll back the rights and protections for LGBTQ West Virginians. In spite of public opposition from citizens, pastors, business leaders and others, lawmakers are moving several forward.
While many anti-LGBTQ bills died, two key proposals have passed the House. Read this post-cross over day round up from Mountain State Spotlight for more on these and other measures still in play at the WV Legislature. 
HB 2007 passed the Senate Health Committee on Thursday, and is now pending in the Senate Judiciary Committee. HB 2007 strips life-saving health care from transgender and nonbinary teens and youth in West Virginia. Here are two actions you can take:
Call your Senator right now and tell them to vote NO on HB 2007.
Call Senate Judiciary Chair Charles Trump at (304) 357-7880 or email him at charles.trump@wvsenate.gov and tell him to keep this harmful bill OFF of the committee agenda. (Update 3/8: HB 2007 is on the Senate Judiciary Committee agenda TODAY at 3PM. You can watch or listen live here.)