–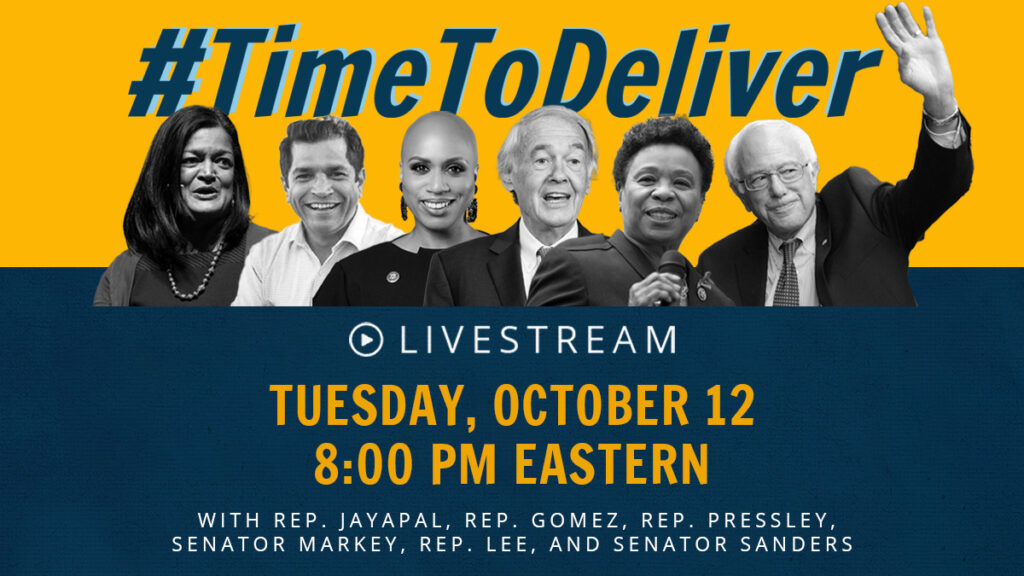 What: #TimeToDeliver Livestream
Coalition, unbranded livestream in support of Build Back Better using the hashtag #TimeToDeliver.
When: Tuesday, October 12 at 8pm Eastern
Where: Cross streamed on Indivisible's Facebook, Twitter, and Youtube pages as well as any/all partner facebook pages that would like to crosspost.
Join us for a #TimeToDeliver Livestream on Tuesday, October 12 at 8:00pm EDT / 5:00PM PDT
We hope you'll join us for a #TimeToDeliver livestream with Progressive Caucus Chair Rep. Pramila Jayapal, Indivisible's Leah Greenberg, United We Dream's Greisa Martínez Rosas, Working Families Party's Maurice Mitchell, and more surprise special guests. We're going to talk about what's at stake, the fight ahead, and what we need you to do to have progressives' backs to pass reconciliation. Trust us, you're not going to want to miss it.
On September 30th, the progressive voting bloc in the House held strong, temporarily blocking passage of the insufficient bipartisan infrastructure package until Democrats deliver on the full Build Back Better agenda. But this work isn't done yet. The next major deadline is October 31, which is when the current short-term authorization for transportation runs out (meaning we need to pass the Bipartisan Infrastructure Framework (BIF) before then… and we need to pass reconciliation before BIF.) It's time for Congress to deliver and pass reconciliation through both the House and Senate. 
What's at stake is a set of policies that will expand health care coverage and lower prescription drug prices, build a pathway to citizenship and include immigrants in recovery provisions, invest in clean energy and climate action, and meet needs like child care, paid leave, and affordable housing. Winning these policies will tangibly improve lives, and that's why it's so crucial that we keep fighting through the month until the recovery package passes.
Current confirmed speakers
Maurice Mitchell; National Director, Working Families Party

Pramila Jayapal (WA-07);  Progressive Caucus Chair

Bernie Sanders; U.S. Senator, Vermont

Edward Markey; U.S. Senator, Massachusetts

Ramón Cruz; President, Sierra Club

Barbara Lee; U.S. Representative, CA-13

Mary Kay Henry; International President, SEIU

Greisa Martinez Rosas; Deputy Executive Director, United We Dream

Ayanna Pressley; U.S. Representative, MA-07

Jimmy Gomez; U.S. Representative, CA-34

Leah Greenberg; Co-Executive Director, Indivisible