–
This month, the WV Rivers Coalition has scheduled 30-minute Lunch & Learn webinars to share information about important policies where your voice matters. Webinar registrants will receive a recording of the webinar.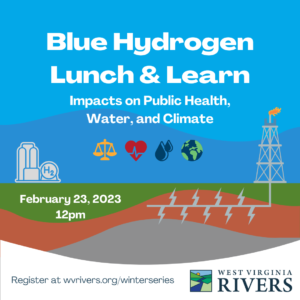 February 23: What is Blue Hydrogen? 
As industry and political interests in using hydrogen as a fuel source increase, it is crucial to understand the risks to our public and environmental health. Learn more at WV Rivers Coalition's Lunch-and-Learn on February 23 at noon! While there are many ways to make hydrogen fuel, one process gaining traction in our state is called "blue hydrogen," — which uses natural gas fracking to bring together methane and water to produce hydrogen with a carbon by-product, which is then captured and stored. Before West Virginia volunteers to be the next "hydrogen hub," we must consider the potential impacts on our communities. Register for the webinar.