In a notice filed Monday, Feb. 5, with the Public Service Commission of West Virginia, FirstEnergy Corp. stated that it will stop fighting to transfer ownership of the Pleasants Power Plant to Monongahela Power and Potomac Edison, FirstEnergy's West Virginia utilities.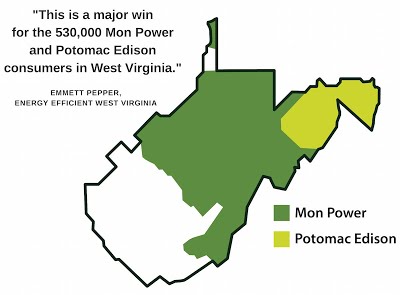 This ends a hotly contested case where numerous groups and customers lined up in opposition to the deal.
For more than a year, Ohio-based FirstEnergy has been trying to transfer the Pleasants plant near Parkersburg, owned by FirstEnergy's unregulated subsidiary Allegheny Energy Supply, to Mon Power and Potomac Edison. FirstEnergy pursued the transfer even though its West Virginia subsidiaries – which are regulated – did not need the plant to meet the needs of customers.
If this scheme had succeeded, Mon Power and Potomac Edison customers would have assumed all of the plant's costs and financial risks, while FirstEnergy and its shareholders would receive a guaranteed revenue stream.
"This is a major win for the 530,000 Mon Power and Potomac Edison consumers in West Virginia," said Emmett Pepper, executive director of Energy Efficient West Virginia. "This deal was bad from the beginning and the extensive evidence presented at the PSC proceeding made clear that the proposed transfer would benefit FirstEnergy and hurt West Virginians struggling to survive in today's economy."
FirstEnergy's announcement followed setbacks at both the Federal Energy Regulatory Commission (FERC) and the West Virginia PSC. On Jan. 12, FERC denied FirstEnergy's request because of concerns that West Virginia customers would be forced to subsidize FirstEnergy's unregulated business. And on Jan. 26, the PSC established several conditions aimed at protecting customers from financial and legal risks that FirstEnergy would have to meet if the transfer went forward.
Solar United Neighbors of West Virginia and West Virginia Citizen Action Group, represented by Earthjustice, challenged FirstEnergy's proposal at both FERC and the PSC.
In its letter Monday, FirstEnergy said it would not appeal FERC's decision. FirstEnergy also said in the letter it would not agree to the PSC's conditions because it would expose the company to unacceptable risks – the very risks FirstEnergy tried to force on customers through its proposal. "We were heartened by FERC's decision and are thrilled to see FirstEnergy bail on its attempt to get corporate welfare from hard-working West Virginians," said Karan Ireland of Solar United Neighbors of West Virginia. "This is proof that the average person can stand up to a corporation and make a difference."
More than 2,500 people, businesses, nonprofits, and cities opposed the Pleasants sale by speaking at the PSC's three public hearings, passing municipal resolutions, filing letters of protest with the PSC, writing letters to the editor, and signing petitions. West Virginians For Energy Freedom, a coalition of community members, local businesses, and public officials, have vigorously opposed the Pleasants deal from the beginning.
Impacts of the proposed Pleasants transfer
The Pleasants deal would have cost the average residential household approximately $69 each year for the next 15 years, according to expert testimony in the case before the PSC. In total that's a net present value loss of $470 million that Mon Power and Potomac Edison customers would have been forced to bear.
Schools, hospitals, and manufacturers in West Virginia would have expected Mon Power and Potomac Edison electric bills to increase more than $230 million over the next 15 years, according to a report by consultants RunnerStone, LLC in December. Solar United Neighbors of West Virginia asked RunnerStone to provide estimated impacts of the Pleasants transfer on schools (primary, secondary and colleges and universities), inpatient and outpatient hospitals, and manufacturers.
According to the report: 
A medium-size manufacturing facility that spends around $600,00 annually on energy would have paid about $234,000 in added costs; a large manufacturing facility would have paid an additional $3.1 million.

53% of West Virginia schools are served by Mon Power and Potomac Edison and would have paid $42.8 million more on electric bills. A district with three elementary schools would pay about $235,000. The Morgan County school district, for example, would fall into this category. 

Hospitals served by Mon Power and Potomac Edison — many in rural areas already struggling to keep doors open — could have experienced a $7.5 million increase in energy budgets. A 425,500-square-foot inpatient hospital would have paid about $450,000 in added costs. For comparison, Ruby Memorial Hospital at West Virginia University is a 500,000-square-foot building.
Key links