Grassroots energy campaign also happening
in the neighborhood President Obama is visiting
By:  Andy White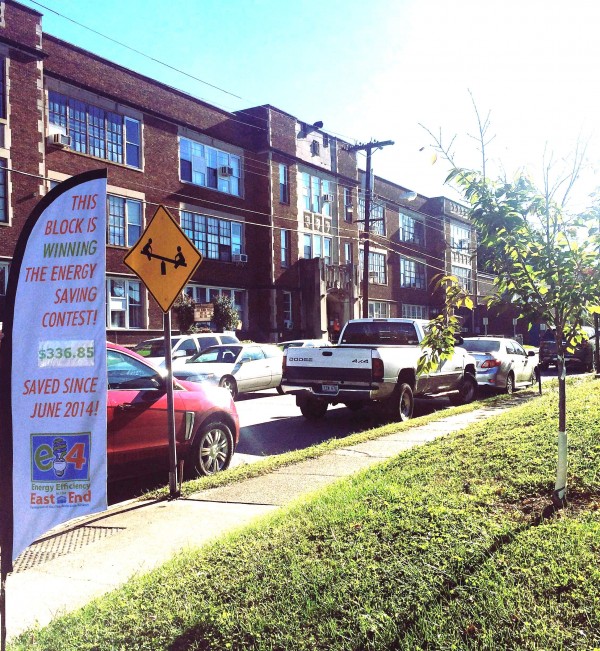 Across the street from the EEFRC building where the POTUS will be visiting today,
the E4 contest's winning block flies a flag displaying its energy saving costs..

Today, President Obama will make his way to Charleston's East End to discuss the overwhelming problem of opioid abuse and overdose in the state.  The East End Family Resource Center will host the president in the Roosevelt Neighborhood Center building near the offices of WV Citizen Action Group and Energy Efficient West Virginia (EEWV). One of the problems cited as leading to widespread prescription drug abuse has the sluggish economy in West Virginia, but right across the street from where the President is speaking, residents have taken steps to improve their homes and create new jobs in energy efficiency.
For the last two years, East End homeowners and renters signed up to be part of an energy saving competition. Many have had their homes undergo an energy audit and made improvements to use less power. Right next to the East End Family Resource Center, on Lewis Street, saved the most money per household, an average $81.21 between June of 2014 and May of 2015.
Building on the success of the e4 competition, EEWV is taking the competition city wide, with the "Energy Efficient Charleston" competition. This will focus on pitting neighborhood vs. neighborhood (East End, West Side, South Hills and Kanawha City) to see who can save the most energy over the year. The city-wide competition will also include a partnership with Mr. Handyman of the Kanawha Valley, which will be offering discounts for people to get upgrades to their home to start saving as soon as possible.
If you live in Charleston, take 90 seconds to sign up to be part of the competition. There's no commitment, signing up just means you get counted with your neighbors in the energy saving competition, but EEWV will help connect you to resources, advice, and ways to save!
Click here to sign the energy saving pledge, and be included in the competition.
If you know people who may want to participate, please pass this along to them too!