A movement is growing in WV.  Everyday citizens are standing up to defend and re-build our communities. We are rising up to fight for equality for ourselves, our families, and our neighbors – not for big donors on Wall Street or politicians in Washington. In West Virginia, we believe in freedom for all people regardless of gender, race, class, orientation, disability, or status.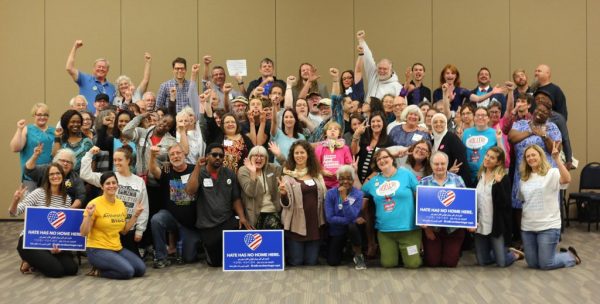 This September, over 150 people from across the state, came together for the WV Grassroots Summit, a two-day planning and grassroots organizing summit in Buckhannon, WV. During this two day summit, folks had the opportunity to join in on trainings, workshops, projects, networking opportunities, roundtable discussions, and more.
This was a great place to build relationships with other organizers and leaders, gather concrete skills (GOTV and elections training, candidate training, issue campaign training, etc.), and trade ideas with groups across WV. 
Special thanks to our hosts Upshur County Indivisible – Votes who helped lead on logistics and providing the theme of Hate Has No Home Here.
This event was organized by more than 29 partner groups – including anti-poverty, labor, faith, resistance, racial justice, women's organizations, civil rights groups, and more. We look forward to co-hosting future events to build on this people-powered momentum!