Our Lunch Out Loud webinar series continues this month with two informative events. 
Recently the WV Legislature has taken extraordinary measures to fast-track legislation and keep the public out of the process. This Thursday, August 24th Join a panel of lobbyists, former legislators, and journalists as they discuss what is happening, the lack of transparency and the impacts on democratic participation.
Panelists:
Eli Baumwell

, Policy Director, ACLU of WV

Margaret Chapman-Pomponio

, Executive Director, WV FREE

Former Delegate

Barbara Fleischauer
Phil Kabler

, Columnist/ Retired Statehouse Reporter,

the Charleston Gazette-Mail
The conversation will be moderated by former Secretary of State Natalie Tennant.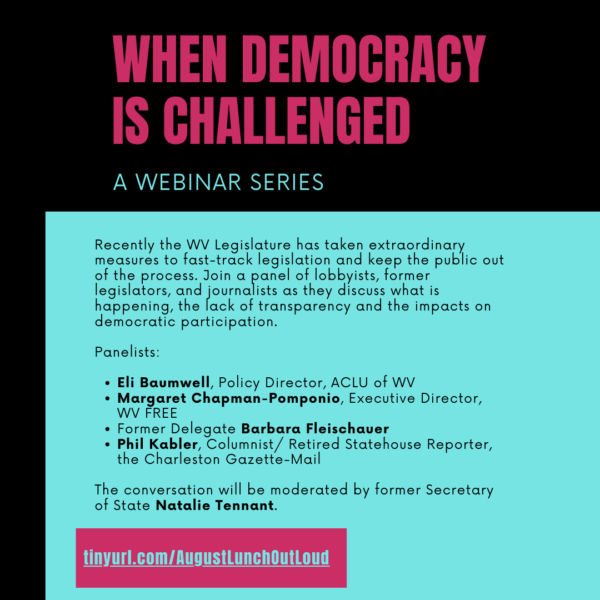 Register here or at https://tinyurl.com/AugustLunchOutLoud to join the discussion.
We'll also have a "bonus" event for this month to commemorate the 60th Anniversary of the March on Washington on Monday, August 28th to hear from West Virginians who were there on that historic day. Al Anderson, Rev. Ron English, Gibbs Kinderman, and Betty Rivard will share memories and reflections from that day and hearing Rev. Martin Luther King, Jr.'s "I Have a Dream" speech. Kathy Ferguson, Executive Director of Our Future WV will facilitate the conversation. 
Join us to honor this historic moment while hearing inspiring speakers. 
Register here or at https://tinyurl.com/MarchOnWashington60th.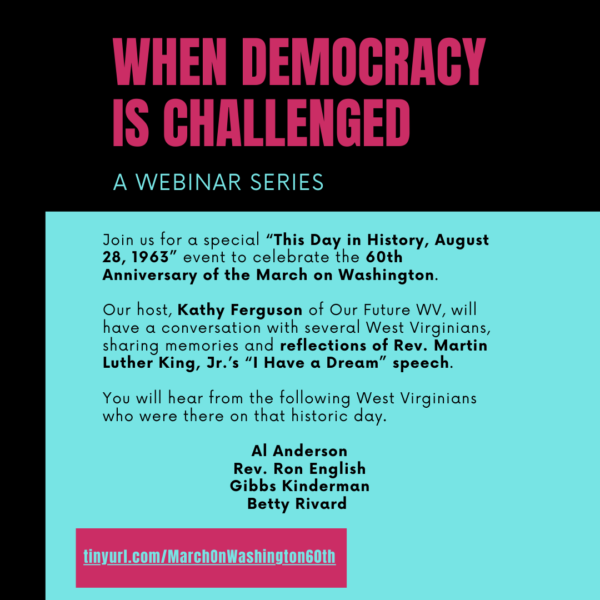 You can also help spread the word by forwarding this email or liking and sharing our Facebook event pages. 
Thursday, Aug. 24 – https://www.facebook.com/events/189892353963462
Monday, Aug. 28 – https://www.facebook.com/events/274902131930830
If you missed our inaugural event with state and national legal experts discussing recent decisions by the US Supreme Court that affect voting rights, you can watch the video here: https://www.facebook.com/WVCCE/videos/297504189397027