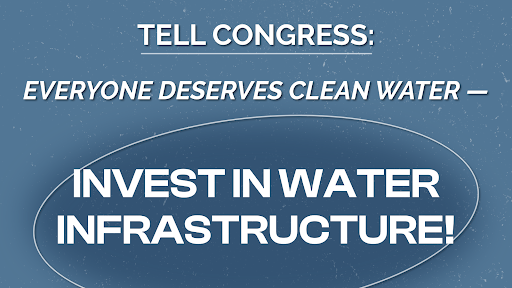 Everyone deserves access to safe, clean, affordable water, but far too many communities — particularly Black, Brown, Indigenous, low-income, and rural — have aging infrastructure, polluted water, and unreliable or unaffordable access to clean water.
Our country's failing water infrastructure is one of the biggest challenges we face when protecting clean water. Water systems across the nation are routinely exposing millions of Americans to water polluted by toxic chemicals like lead that can create devastating health and environmental consequences. But Congress has a once-in-a-lifetime opportunity to address this crisis, and they need to hear from you.
More than 186 million people in the United States get their water from systems with lead service lines. These systems include schools and child care centers that expose children to lead in their drinking water.
By making bold investments that prioritize modernizing this outdated infrastructure, we can protect our health and water and create good-paying union jobs.
These investments are vital to addressing environmental injustice — and to rebuilding our economy. Improving our water infrastructure will create good-paying jobs that can prevent pollution in our waterways, support hunters and anglers, and boost local outdoor recreation economies.
It is urgent that Congress pass a bill that makes the big, bold, and ambitious investments needed to tackle the climate crisis, achieve true environmental justice, and accelerate the transition to clean energy. To meet this moment, to heed the science, and to make good on President Biden's promises, Congress must act now to deliver on climate, justice, and jobs.
Join us and sign your name if you agree that we need bold investments to ensure that families and communities across our country have access to clean water!