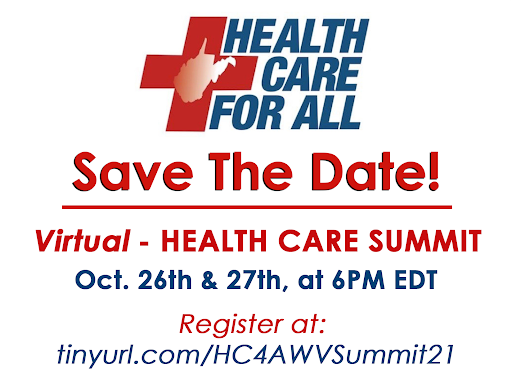 On Tuesday, October 26 and Wednesday, October 27 2021, The West Virginia Health Care for All Campaign will host a Virtual Health Care Summit.
They will go over the policy agenda in detail. They will also have a panel of experts discussing critical health care issues for West Virginians.
Please register in advance for the Virtual Health Care Summit and learn what you can do to help West Virginia work towards a healthier future. 
Register Here: tinyurl.com/HC4AWVSummit21
This event will be hosted in partnership with West Virginians for Affordable Health Care, the Rx Foundation, WV Center on Budget and Policy, and WV Citizen Action.
Thank you for taking action with West Virginia Citizen Action!