Yesterday, hundreds of people rallied on the steps of the Capitol to oppose SJR 12, a proposed constitutional amendment that is being deceptively explained as an effort to take away Medicaid funding for abortion, but which aims to take away reproductive rights for women more broadly.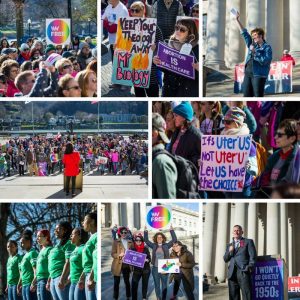 Hours before the rally, the House of Delegates advanced SJR 12 to passage stage after rejecting an amendment that would have put the measure on the ballot earlier, instead of waiting until November, seeming to affirm that this is more about scoring political points and turning out conservative voters.
Instead of debating and passing a measure to change the state constitution so they can take basic rights and health coverage away from our people, the Legislature should be focused on ways to expand and support health care.
Tomorrow, Monday, March 5, is the final vote.
Act now! Contact your Delegate(s) and tell them to vote NO on SJR 12!
Earlier in the week, the House of Delegates passed HB 4623, which would punish and/or make criminals out of pregnant women struggling with addiction if when they seek prenatal health care. This is not the way to get treatment for our most vulnerable. We need pregnant women to feel safe obtaining prenatal health care, childbirth, and seeking treatment for substance abuse disorders.
Prioritizing punishment of a substance abuse disorder over the safety of our women and their families is a misguided attempt to solve this very complex, serious drug epidemic in West Virginia. West Virginia should be expanding our services for people battling addiction – not making it less likely that an expectant mom will seek treatment.
Contact your Senators today and tell them not to criminalize mothers!