With the freedom to vote under attack by extremist state legislators, it remains imperative for congress to pass federal protections to guarantee voting rights. Join WV Citizen Action and partners for a series of webinars focused on challenges to our democracy and the actions we can take to protect our freedom to vote and hold those in power accountable. 
For our first "Lunch Out Loud" on July 28, Atiba Ellis, Professor of Law at Case Western Reserve University School of Law, and Anthony Majestro, a Charleston attorney with experience in election law, will discuss recent decisions by the US Supreme Court that affect voting rights, and what they mean for ballot access in West Virginia. The conversation will be moderated by former Secretary of State Natalie Tennant. 
Register here or at https://tinyurl.com/JulyLunchOutLoud.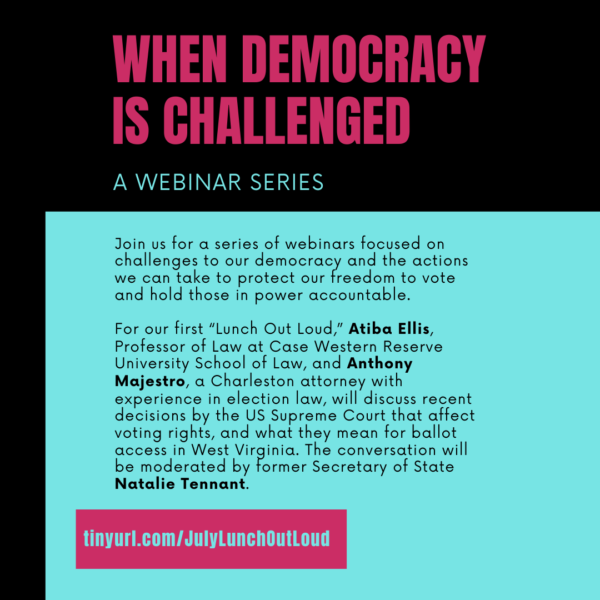 Thank you for your commitment to free and fair elections. Democracy is stronger when it includes all of us. We look forward to your participation in this important discussion. 
Help spread the word by forwarding this email or sharing our Facebook event or the flyer below.
See you Friday, July 28th at noon! 
— Julie
Julie Archer (she/her/hers)
Project Manager, WV Citizen Action Group
Coordinator, WV Citizens for Clean Elections
www.wvcag.org – www.wvoter-owned.org
---
About our speakers:
Atiba R. Ellis is the Laura B. Chisolm Distinguished Research Scholar and Professor of Law at Case Western Reserve University School of Law. He previously taught for nine years at the West Virginia University College of Law. A nationally noted voting rights scholar, his primary research focuses on how racial and class-based oppression interact to abridge and deny the right to vote to communities on the margins of American democracy. His work has analyzed voter identification laws for their socioeconomic effects, situated felon disenfranchisement laws as enforcing a political underclass, analyzed the theoretical scope of the Citizens United decision and described the ideological drivers of vote suppression. Professor Ellis's current research focuses on how ideologically driven conceptions of "wrongful voters" diminish the right to vote. He filed an amicus brief in Moore v. Harper with the Boston University Center for Antiracist Research. The brief explains how checks and balances on state legislative activity are critical to safeguarding the rights of Black voters. Additionally, it casts a spotlight on the history of racialized vote suppression in North Carolina where the case originated. 
Anthony Majestro is currently the managing partner at Powell & Majestro P.L.L.C. His Charleston-based firm handles complex litigation including the representation of individuals and others who are victims of consumer fraud or are injured by defective products. Tony leads the firm's extensive consumer protection practice. In addition to his work at his firm, he has also served as a cooperating attorney on a number of important cases with the ACLU-WV. His hard work has helped to protect the rights and health of West Virginians. In 2019, he received the Sid Bell Memorial Award for service to the ACLU-WV affiliate.
Natalie Tennant served eight years as West Virginia's elected Secretary of State earning the reputation as an innovative and visionary leader who was recognized nationally as a pioneer in elections administration, business development and financial accountability. Natalie consults for the Brennan Center for Justice at New York University School of Law where she was also Manager of State Advocacy for Voting Rights and Elections. A respected voting rights leader, she helps expand and influence voter registration opportunities in states across the country, and continues to give generously of her time to share her knowledge and expertise to efforts to protect and improve ballot access for West Virginians. In the Fall of 2022, Natalie was one of seven Resident Fellows at Harvard University's Institute of Politics, sharing her knowledge and experience with students and emerging leaders exploring important public issues related to political and civic engagement.