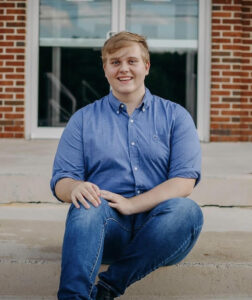 Hi! My name is Richard Rose (he/him), I am from Princeton, and I am beyond excited to be working with CAG as an intern this summer! I'm a rising sophomore at Macalester College in St. Paul, Minnesota, where I am double majoring in Spanish and Political Science on a Pre-Law track.
Prior to leaving for college, I spent a significant amount of time working in the local political scene in Mercer County. During the summer of 2019, my best friend introduced me to the amazing people on the executive committee for the Mercer County Democrats, and mere minutes after this introduction, I was conducting surveys for the committee at the county fair! Over the course of the next year, I became deeply involved with WV Can't Wait and Tina Russell's campaign for the House of Delegates. It was through these campaigns that I fell in love with utilizing politics to work toward acting as a changing force in the lives of people who have been historically excluded from our nation's notorious promise of "liberty and justice for all."
Since starting college last fall, my focus has unsurprisingly shifted to the academic side of politics. In turn, I have discovered a particular interest in studying the ways in which fields of power run through the systems that surround us (education, electoral politics, etc.) and how they influence social hierarchies that originate from/interact with broader social structures, such as colonialism and capitalism, with an emphasis on the intersections of race, class, and sexuality. Additionally, I have begun working on providing direct support to the various communities that have welcomed me into the Twin Cities. As a result, I tutor at a local library in St. Paul and have initiated the process of establishing a student organization that aims to create a sense of community among and supply material support to fellow low-income, first-generation students at Macalester.
I hope to combine my experience in electoral politics, academic interests, and desire to directly support the communities I inhabit through the work I will be doing with CAG this summer! My main area of focus will be on maintaining and expanding election integrity and voter access by working closely with Julie Archer on various initiatives, such as the Voter Issue and Action Survey, which is in the process of rolling out now!
I can't wait to get started on this amazing journey and re-immerse myself into the wild and wonderful world that is West Virginia politics!