Townhall Show Benefits of the Build Back Better Act for West Virginians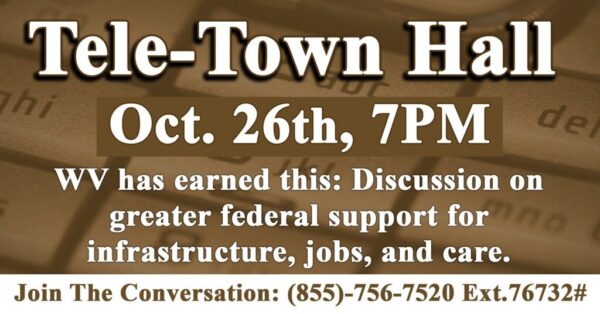 Participants from Across WV Make Case for Investments in Clean Energy, Childcare, Job Creation
Charleston W.V. — Last week, nearly 4,500 West Virginians participated in a telephone town hall on the benefits of the Build Back Better Act. The event was sponsored by West Virginia United for Social and Economic Justice. 
The Build Back Better framework funds $1.7 trillion in spending across a host of domestic priorities, notably clean energy and child care. This spending will be paid for by ensuring the top .02 percent of Americans and the most profitable corporations pay their fair share of taxes.
During the event, Brandon Dennison of Coalfield Development said the move to clean energy will create local manufacturing jobs. "West Virginians are hungry for economic solutions that will support working families. As demand grows for clean technology, there is no reason for that technology not to be made in America."
To address climate change, the Build Back Better Act includes an array of tax credits for companies and consumers that will help individuals and businesses buy electric vehicles, install solar panels, retrofit buildings and will incentivize the manufacture of clean energy components in the United States. These programs will cut greenhouse gas pollution by more than one gigaton in 2030.
This investment in commercial and residential solar would be a "game changer for the next generation of union electricians, expanding the number of good-paying jobs right in our own backyard," according to Shane Wolfe with the International Brotherhood of Electrical Workers Local 317. Wolfe added that solar electricians are already the fastest-growing segment of his union.
More than 50 listeners had questions on topics ranging from the need to keep young people in the state by creating new economic opportunities, reducing the cost of solar panels for people on fixed incomes, expanding broadband, and improving the reliability of the electric grid after storms.
Jim McKay, state coordinator with TEAM for WV Children, discussed how elements of the bill will eliminate barriers that make it challenging for parents to work. 
"Seven counties in West Virginia don't have a single childcare center. Even where it is available, the average cost is more than $9000 a year – more than tuition at WVU. This bill will ensure that no one pays more than seven percent of their income for childcare and it will expand access to free pre-kindergarten for three and four year olds." 
The town hall included two polls. Seventy-nine percent of the listeners responded "no" to the question, "Is Washington doing enough to bring new jobs to West Virginia?" Sixty-one percent of the respondents said that a lack of access to care for a child or an older relative had recently prevented them from working.
Listen to a recording of the tele-town hall here.