For Immediate Release – February 7th, 2022
Media Contact: Gary Zuckett, (304) 437-3701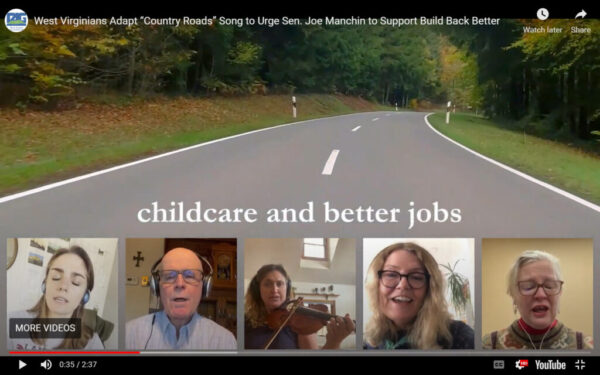 PRESS RELEASE
West Virginians Adapt "Country Roads" Song
to Urge Sen. Joe Manchin to Support Build Back Better
Charleston, W.Va. – West Virginia Citizen Action Group released a video today of West Virginians from across the state singing and fiddling along to a parody of "Country Roads", urging Sen. Joe Manchin (D-W.Va.) to change his position and support the popular Build Back Better legislative package.
West Virginians from Cassville, Davis, Morgantown, and Berkeley Springs used this creative medium to share with Senator Manchin why the social programs included in Build Back Better are supported by a 43 point margin among West Virginia voters.
They sang "Our country roads need more homes, childcare, and better jobs. Build Back Better for our mamas. Come on, Joe, we need your vote," and pointed out that Build Back Better would increase access to health care, lower prescription drug prices, provide hearing aids for seniors, and combat climate change, which would disproportionately benefit WV, where poverty rates are among the highest in the nation.
This video, meant to educate West Virginians about the benefit of Build Back Better and to call Senator Joe Manchin to urge him to support it, is just the latest tool by West Virginia Citizen Action Group and allied WV organizations that have been mobilizing support for Build Back Better for months and are continuing to push Sen. Manchin to help get the bill over the finish line.
Watch the full parody video here: https://youtu.be/aQpIrfwUMns
###