With Voting Restrictions Defeated at the Legislature, Focus Shifts to Federal Democracy Initiatives
ICYMI. Here's a bit of good news from the legislative session: Someone was listening. After the public hearing on SB 565 drew mostly opposition, House Judiciary Chair Moore Capito (R-Kanawha) said there was not enough time to properly consider all the substantive changes the bill would have made to West Virginia election law. According to MetroNews statehouse reporter Brad McElhinny, Capito seemed to take the public hearing comments seriously. 
More than 40 speakers gave thoughtful, informed comments about why they are concerned with SB 565. Thanks to everyone who spoke out against this bill that would make it harder for West Virginians harder to vote. And thank you, Delegate Capito, for hearing the concerns of West Virginia voters. 
Several speakers pointed to last year's record-setting election, which had the highest early and absentee participation in state history, and expressed dismay that the Legislature was taking away options from voters instead of moving forward with reforms that would encourage participation and modernize voter registration
One major concern raised by voters who spoke was the proposed changes to early voting, and the elimination of the most popular days (the Friday and Saturday before Election Day) that have been available to voters for nearly 20 years. These days are popular for a reason, including but not limited to the fact that there's more information available about the candidates closer to Election Day. Candidates run campaigns when they make their cases to the voters. Voters want to hear them out. Eliminating these days because it's suddenly too much work for the county clerks would be like stores closing on Black Friday because the cashiers thought it was too much work to ring up all the purchases. Except in this case, we're talking about a fundamental right.
In addition to the changes to early voting, allowed county clerks and the Secretary of State to start the process of removing voters from the rolls after two years (instead of four) if someone hasn't voted; and would have gutted automatic voter registration at the DMV, which has yet to be fully implemented. 
Although SB 565 didn't pass, Capito said it's possible the issues with the bill could be reviewed during the legislature's interim process over the summer, so stay tuned. We look forward to working with the Legislature and our partners and allies to come up with a bill that puts voters first.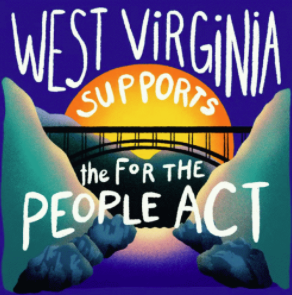 Meanwhile, with the coming to a close, we're starting to turn our attention to next steps. With the fervor around Manchin and our great state, West Virginia Citizens for Clean Elections is joining forces with For West Virginia's Future to build a team to work on federal democracy initiatives and guide national organizations in their efforts in West Virginia.
Our first priority is HR1/S1: The For the People Act, which you may remember from a town hall we held in January. We've already got a standing meeting with national partners, and we've hired a project coordinator to serve as our point person! And there are lots of opportunities for organizations and individuals to plug in and be part of this effort to ensure safe and fair elections, and help us create a democracy that's representative of all American's voices and values. So if you're interested in being part of the West Virginia Democracy Team please reach out.