As you may be aware, WVCAG and our partners in the WV Freedom to Vote Coalition have been engaged in an initiative to distribute the Voter Issues and Action Survey in order to identify the barriers WV voters face when attempting to access the polls. 
If you had an issue voting in the primary, we want to hear from you!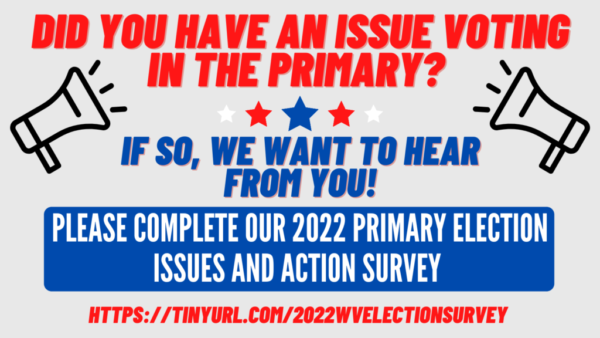 We are excited to announce that we concluded our texting campaign last week, and through this campaign, we reached out to over 30,000 voters asking them to share their stories if they encountered any issues voting in the 2022 primary election! We heard about a multitude of issues ranging from an appalling lack of information about local candidates to unannounced precinct changes and unnecessary obstacles to obtaining absentee ballots on account of concerns about the ongoing COVID-19 pandemic.
 
However, in order to accurately gauge the condition of voter access in WV and effectively hold election officials accountable for the aforementioned barriers, we must hear about the experiences of more West Virginians! Therefore, we encourage you to join us as we launch one more collective push to distribute the survey using the VIAS Digital Toolkit. Please use the social media graphics and flier in the toolkit to spread the survey as far and as wide as possible!
 
Your incredible help with disseminating the survey is crucial to the success of this initiative, so let's get out there to listen to our fellow West Virginians and protect our vote!
Richard Rose
WV CAG Summer Intern & Democracy Fellow
Thank you for taking action with West Virginia Citizen Action!