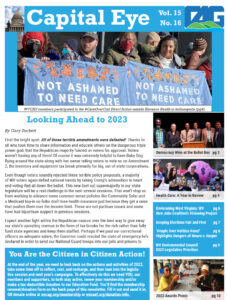 Our December Newsletter is ready, and it's in PRINT! Check your mailboxes, or contact us. We'd be happy to mail you a copy. A PDF version is also available for download below.
In this issue:
Looking Ahead to 2023 (pg 1)
Democracy Wins at the Ballot Box (pg 3)
Health Care: A Year in Review (pg 4)
Envisioning WV: The WV New Jobs Coalition's Visioning Project (pg 6)
Keeping Elections Fair and Free (pg 7)
'People Over Politics Panel' Highlights Danger of Moore V. Harper (pg 8)
WV Environmental Council – 2023 Legislative Priorities (pg 9)
2022 Awards Picnic (pg 10)
---
End of Year Holiday Greetings to You and all our Supporters!
From Gary Zuckett

Below is a link to our final newsletter of the year, and what a wild year it's been!
After we all thought Build Back Better was beaten, we finally saw our Senior Senator agree to support the Inflation Reduction Act, which is actually the most sweeping Climate Change Bill to ever pass Congress!
That was the high point. The low point was having our state lawmakers and governor essentially ban reproductive choice for West Virginians. We support Health Care for All including the full range of reproductive health care options. 
Following that, we had a really bruising state general election, the first after the newly gerrymandered statehouse districts were installed by the conservative majority. However, we joined coalition efforts to derail their three big power grabs via constitutional amendments – all went down to overwhelming defeat at the polls.
We can't put much of a positive spin on 2022 for sure, and next year's legislative session will be a marathon. We'll definitely be supporting several good bills such as Community Solar and Medicaid Buy-in, while playing defense opposing too many others to name here. Watch for our Legislative updates to see how you can help take Action in 2023!
"When the going gets tough, the tough get going!"
WV Citizen Action has been in this fight since its founding in 1974! We'll continue pushing for social, environmental and economic justice into 2023, 2024 and Beyond!
That's where YOU come in!
With your continued support through memberships and tax-deductible donations, you can help keep us in the fight for a cleaner, greener, and more people centered West Virginia.
Click here to renew your membership and/or make an extra EOY tax deductible donation today.
Below is your online copy of the newly released Capital EYE newsletter!
Have a Happy New Year from all the board and staff of WV Citizen Action Group and WV Citizen Action Education Fund!
 – Gary Zuckett, Executive Director
---
Upcoming Events!
---