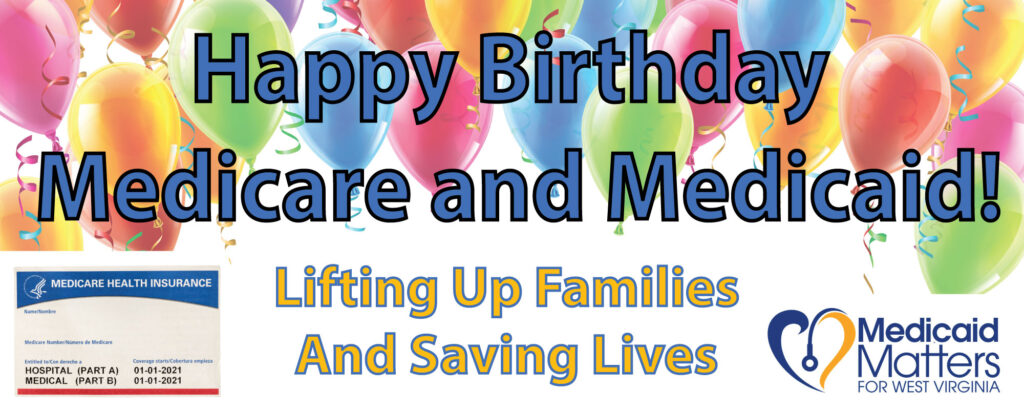 For immediate release: July 31, 2022
Contact: Gary Zuckett, garyz at wvcag.org; 304.437.3701
Healthcare Reforms and Prescription Drug Pricing Take Center Stage at Medicare/Medicaid Anniversary Celebration
(CHARLESTON, WV) – A coalition of West Virginia groups and healthcare advocates hosted a press conference this past Saturday centered around the 57th birthday of Medicare and Medicaid, with healthcare and prescription drug pricing reforms taking center stage.
See the video of the various presenters here:
https://www.youtube.com/watch?v=dlm_3cx8zNU 
On July 30, 1965, legislation that established the Medicare and Medicaid programs was signed into law. These programs have been protecting the health and well-being of millions of American families, including hundreds of thousands of West Virginians every year, for decades.
"As with the now over 30 community health centers in WV, we would not exist without the Medicare and Medicaid program, said Craig Robinson, Executive Director of Cabin Creek Health Systems. "These were giant steps in bringing health security to elderly and disabled and were necessary to create the healthcare infrastructure that all rely on."  
"Medicare & Medicaid has now had over a half century of providing lifesaving healthcare to seniors and low-income families," said Gary Zuckett, Executive Director of West Virginia Citizen Action Group. "The next phase should be to expand and improve on its services and make them available to everyone. An excellent start is to allow Medicare to negotiate lower prescription drug prices to be able to expand coverage."
Saturday's anniversary comes days after Democrats announced they had reached an historic deal to drive down prescription drug costs and lower premiums for millions of Americans. Along with fighting inflation and making key investments in climate and energy, the Inflation Reduction Act of 2022 lowers prescription drug prices by giving Medicare the power to negotiate and other measures that will reduce the costs of prescription drugs for millions of Americans, and lowers health care premiums by extending ACA financial assistance for three years.
"Health care is the number one kitchen table issue in West Virginia – with too many families forced to choose between paying the bills and affording essential care," said Dr. Jessica Ice, Executive Director of West Virginians for Affordable Health Care. "By reducing health care premiums and giving Medicare the power to lower prescription drug prices, President Biden and the Democratic led Congress is delivering on their promise to lower health care costs and to make health care more accessible and equitable."
Diabetes drugs – insulin – make up one in three dollars spent on drugs by Americans. Delegate Barbara Fleischauer has long championed an insulin copay cap in our state legislature and fought to win a cap of $100 a month. 
"If the Inflation Reduction Act is passed, including this insulin $35 monthly copay cap, it will be an incredible victory," said Delegate Fleischauer, who represents Monongalia County in the West Virginia House of Delegates. "The Act also would allow Medicare to directly negotiate the price of insulin products with drug companies saving the Medicare program money. The passage of the Inflation Reduction Act with these provisions will help protect Medicare, save lives, and provide peace-of-mind to more than 37 million people with diabetes."
Congress has the opportunity to pass a package of drug pricing reforms before its August recess that includes these provisions:
By 2023, bar drug manufacturers from increasing prices for drugs faster than general inflation for all Medicare-covered drugs, which is essentially all U.S. prescription drugs. 
By 2025, cap annual out-of-pocket costs for Medicare beneficiaries at $2,000 when they are currently unlimited and can run to more than $15,000 and expand the Part D low-income subsidies by expanding the income threshold for eligibility from 135 percent to 150 percent of the federal poverty level.
Beginning in 2023, Medicare will, for the first time, have the power to negotiate the price of prescription drugs. 
These provisions will save Medicare $300 billion – not take it from Medicare but save Medicare money. We call on Congress to vote to break the pharmaceutical industry's unilateral power to dictate prices to the American people – to vote to save lives, improve health, curb the impact of inflation, and put more money back into the pockets of American seniors, workers, and businesses.
###
Groups participating in the anniversary press conference include: West Virginians for Affordable Health Care, West Virginia Citizen Action Group, Health Care for All West Virginia, Physicians for a National Health Program of West Virginia, Protect Our Care West Virginia, Rise Up WV and Cabin Creek Health Care Systems.
Gary Zuckett, E.D.
WV Citizen Action
304-437-3701