UPDATE 2/18/22: Commission to move ahead with West Side community voting site
For Immediate Release: 2/17/22
Media Contact: Julie Archer at (304) 610-9094 or julie@wvcag.org
Community Members and Local Faith Leaders Rally in Support of Early Voting Site on Charleston's West Side
Local Residents Speak to the Need for Early Voting Access in Their Neighborhood
Charleston, WV – TODAY, Thursday, February 17 at 4:00 pm, community members and local faith leaders gathered for a press conference and rally to show support for establishing an early voting site on the West Side of Charleston. The event took place at the Kanawha County Courthouse, immediately prior to a public hearing at 5:00 PM in the Commission Courtroom.
Speakers included:

Marian Alston, Kanawha City resident, Charleston NAACP & WV Faith Table member

Rev. Roberta Smith, President, Charleston Black Ministerial Alliance

Rev. Michelle Boomgaard, St. John's Episcopal Church

Lakiesha Lloyd, West Side resident; US Army Veteran; member, Common Defense

Ryan Kirkpatrick, Charleston resident; WV State University student; Young WV Forward, Youth & Racial Justice Organizer

Martec Washington, West Side resident, Community Organizer

Larry Moore, West Side City Councilman, Ward 4

Mary Ann Claytor, St. Albans resident, Co-Chair WVDP Black Caucus

Wes Holden, Sissonville resident;

US Army Veteran; retiree
Supporting organizations include: the Charleston NAACP, the WV Faith Table, Faithful Democracy, Kanawha Valley NOW, Rise Up WV, WV Citizen Action Group, and others.
Quotes from several community members are included below.
Background: The Kanawha County Commission recently proposed adding a new early voting location on Charleston's West Side. The new community voting site, located at the Girl Scouts of Black Diamond Council building at 321 Virginia Street West, will serve all Kanawha County residents, but is particularly important to the historically underserved West Side neighborhood.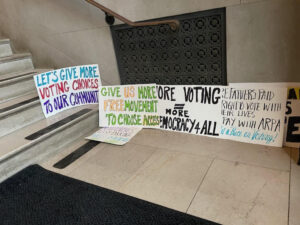 The Kanawha County Commission, County Clerk, and Kanawha County Democratic Executive Committee all agreed to the location, but the Republican Executive Committee is withholding its support citing cost and neutrality. Their objection could bring the idea to a halt. Under state law, these four parties must agree before a new community voting location is established, giving any one party veto power. 
Regardless of the cost, you can't put a price on voting. Early voting provides convenience and flexibility for everyone, allows people to cast their votes around their own busy schedules, and cuts down on Election Day congestion, which seems wise during a pandemic. Early voting on the West Side, at the Diamond Girl Scout building, would improve accessibility for neighborhood residents, voters with mobility issues and those who need convenient parking.
Establishing this additional early voting site will benefit the entire community by providing a convenient alternative to voting early at the Voter Registration Office, located in the judicial annex of the County Courthouse.
Quotes from today's event:
Martec Washington, a West Side resident and community organizer said, "It is important because everybody should have the opportunity to vote. We should be making it easier and not harder to vote, especially in communities like the West Side. Some people chose not to vote because casting a ballot may make them miss work, or they may feel like their voice doesn't matter. We should be empowering voters, giving them access to an early voting location in their front and back yard. Plus, we are in a Pandemic. We can cut back on the spread of COVID by offering more locations to cut back on Election Day lines. Having a location on the West Side will motivate people to vote and that's what we want, right, more people to the polls having their voices heard."
Lakiesha Lloyd, a disabled Army veteran and member of Common Defense, who lives on the West Side asked, "How is it that I don't have proper access to voting in my own neighborhood after I served my country? I poured my blood, sweat and tears in years of sacrifice and hardship, only to leave the military with my mind and my body broken. I gave every inch of myself to defend our democracy, including the right to vote for all the members of my community. 
Due to my service, like so many of my fellow veterans, I suffer from PTSD and physical disabilities. Standing in long lines to cast my ballot and dealing with loud, crowded polling places makes it impossible for me to vote on Election Day. Early voting is a necessity for myself and many others like me. 
As a veteran, I have never stopped serving my country and my community. Everyone deserves to have access to the ballot. The West Side of Charleston has suffered and been ignored for too long. I will continue to fight for my fellow Americans, just like I did when I was in uniform. If you respect my service, you will vote in favor of opening a new early voting location here in West Charleston!
Mary Ann Claytor, co-chair of the WVDC Black Caucus, added, "There has been a trend in other states to cut back on early voting, often targeting communities of color. Working and lower-income people all over West Virginia already face many struggles. Voting should not be one of those struggles. 
I urge the Kanawha County Republicans to join the Kanawha County Commission, the Kanawha County Clerk, and the Kanawha County Democrats by allowing the proposed early voting place on Charleston's West Side. Let's send a clear message that West Virginians are united regarding accessible and flexible voting for all communities."
Larry Moore, Charleston City Councilman representing Ward 4 on the West Side, also spoke in favor of a new early voting location. "There needs to be more than one early voting location on the West Side. There are so many people in our city that have a hard time getting to the polls on Election Day for so many different reasons and this polling location would solve that problem." 
Wes Holden, also an Army veteran and resident of Sissionville in Kanawha County, praised the County Commission. "I want to applaud the Kanawha County Commission for considering the addition of two new early voting locations, on the east and west sides of Charleston.  I commend you for thinking about this during a time in our nation's history when others are seeking to limit voting access.
There are those who maintain that there is no need for new voting locations while at the same time they strive to negatively affect nearly every step of the voting process without any reasonable justification.
I urge each of you to continue to stand up to those who want to divide us.  You must continue to do your part to improve voting access and protect voting rights for all. During the Covid pandemic, it is negligent to force voters to gather together and possibly spread the virus.
I am sure you would agree that new voting locations would benefit not only those who are working and do not have time to wait in long lines, but the poor and the disabled.
John Lewis said, "When you see something that is not right, not fair and not just, you have to speak up.  You have to say something, you have to do something."
Like John Lewis, I cannot keep quiet. I believe in voting rights for all and feel compelled to do what I can to make the right to vote easier for every West Virginian and every American. I'm confident you feel the same."
######