–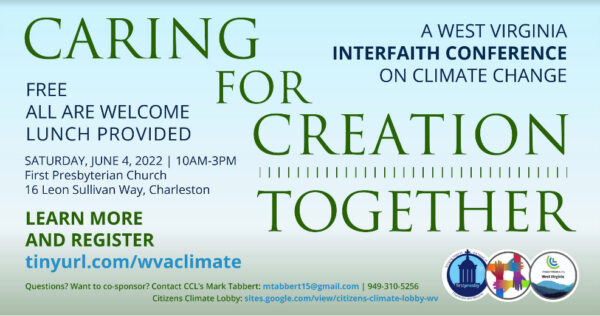 A West Virginia Interfaith Climate Conference
People of faith across our state will come together to discuss our concerns for West Virginia's changing climate, its effects on our way of life, our future, and our response. All are invited!
Keynote speakers and panel discussions will feature WV faith leaders and economic, legislative, and climate experts discussing:
Our shared call to care for creation
West Virginia's proud history as the nation's energy supplier
West Virginia's key role in crafting climate solutions for a positive economic transition
West Virginians' need to be at the decision-making table: what you can do and how you can be involved.
Featured speakers from the faith community:
Bill Myers, Pastor, First Presbyterian Church, Charleston, WV
Rev. Jeff Allen, United Methodist Pastor and Executive Director of WV Council of Churches
Rev. Mitch Hescox, President, The Evangelical Environmental Network
Rev. Ron English, Restorative Justice Facilitator with American Friends Service Committee; ordained into the ministry by Drs. Martin Luther King Jr. and Sr. at Ebenezer Baptist Church in Atlanta, Ga
Robin Blakeman, Ordained Minister, Presbyterian Church of the USA, with validated ministry in environmental stewardship; Steering Committee, WV Interfaith Power & Light
Bishop Marcia Dinkins, Founder and Executive Director of Black Women Rising
Lunch provided ($15 donation suggested); free parking available.