–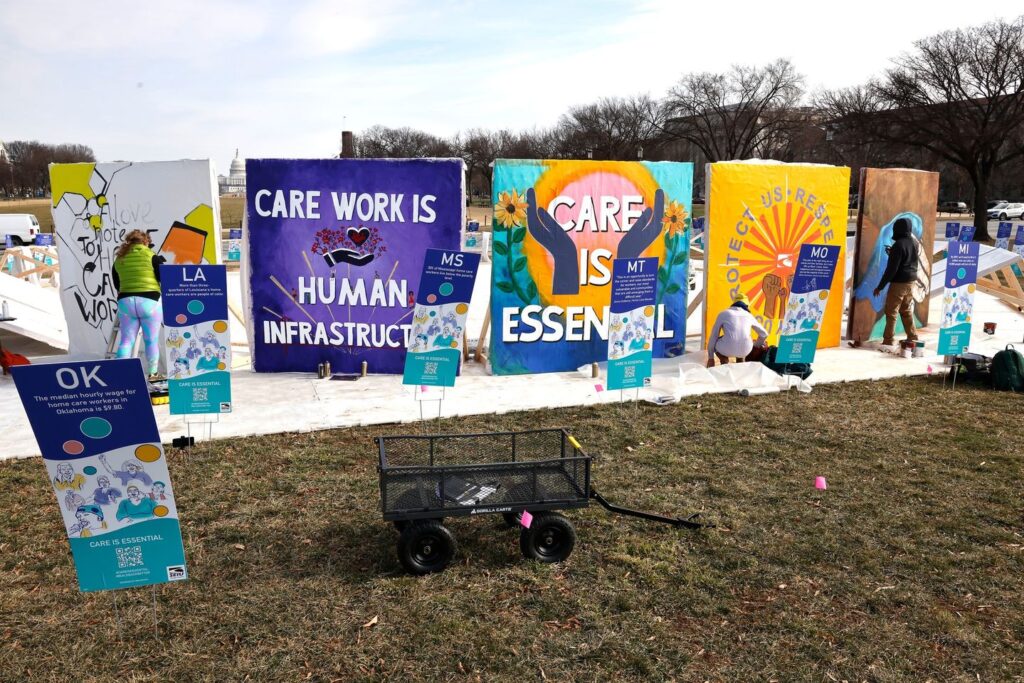 THURSDAY: West Virginia Care Workers, Supporters to Demand Congress Lower Home Care Costs, Invest in Workers
President Biden's economic plan would alleviate surging demand for home care in West Virginia, where 25% percent of population will be seniors by 2035
Traveling art exhibit lands in downtown Charleston highlighting dire need to ensure living wages for essential care workers
Charleston, WV — As the U.S. Senate hears renewed proposals to tackle the nation's home care crisis, West Virginia home care workers and advocates will gather to issue an urgent call to the state's U.S. Senators in Washington to pass an investment in home- and community-based services, and lift up West Virginia care workers and the seniors and people with disabilities they care for. 
Local home care workers and supporters will gather at a major art installation at Davis Park in Downtown Charleston featuring portraits of home care workers and other art about how care is essential, and raise their voices to demand better care jobs in West Virginia, where the average care worker is paid less than $10 an hour. 
They will call on Congress to deliver on President Biden's plan to lower home care costs, expand access to home care, and create and improve jobs for home care workers. President Biden's plan will have an outsized impact on West Virginia, as the state faces a surging aging population and a shortage in care workers to meet demand. More than one-fourth of West Virginia residents will be seniors by 2035; and by 2028, West Virginia will need to fill 28,600 home care job openings.
"An investment in home and community-based services means that home care workers like me can have access to living wages and more training so our clients can receive the quality care they deserve," said Christina Lee, a home care worker from Beckley, WV. "When I think about West Virginia and our state's economy, there's so much more our congressional leaders can do to move us forward. But instead home care workers are being held back. My whole heart is in the care work I provide. I have a lot of love and pride that I put into my job. We shouldn't feel like we're second guessing our worth."
EVENT DETAILS
WHAT:  Press conference urging U.S. Senators to invest in home care, raise wages, create jobs, and access access to care
WHO: 
Vikki Tully, Head Start teacher and SEIU 1199 West Virginia Member Vice President 
Ryan Frankenberry, Working Families Party State Director
Josh Sword, WV AFL-CIO President
Essential home care workers
Supporters
WHEN: Thursday, March 24, 2:00pm ET
WHERE: Davis Park Statue, 300 Block, Capitol Street, Charleston WV
LIVESTREAM: https://www.facebook.com/careisessential 
RSVP: Please RSVP to jadel.munguia@berlinrosen.com or