–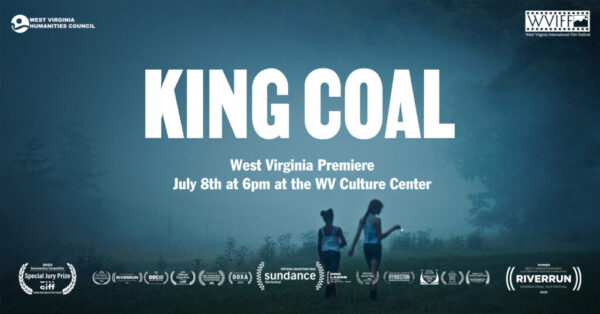 After traveling to 20+ film festivals in the U.S. and Canada – and winning four special jury awards –  KING COAL is coming home to West Virginia to the people and place who made it possible. The film will show at the West Virginia Culture Center in Charleston, W.Va. on July 8 at 6 PM.
The event is presented by the West Virginia International Film Festival and will feature the 75-minute film screening, a live Q&A discussion with filmmakers, food, music, and more. The film is Rated Y and is appropriate for families and children.
Several West Virginia artists designed original poster designs for the film, which will be available for sale on July 8. Short Story Brewing will provide local brews. Echo-Lit will provide printing. If you're a local musician, we invite you to bring your instrument and join us for a jam after the screening. 
Filmmakers in attendance for the Q&A include director Elaine McMillion Sheldon; director of photography Curren Sheldon; co-producer Molly Born; associate producer Clara Haizlett; producer Diane Becker; and impact producer Mia Bruno. Additionally, many of the people who appear in the film, including Gabby Wilson and Lanie Marsh, will be there.
The film was made possible with the generous support of the West Virginia Humanities Council, The Peggy and Millard Drexler Family Foundation, the West Virginia International Film Festival, Sundance Institute Documentary Film Program, Field of Vision, Creative Capital, Catapult Film Fund, The Tribeca Film Institute, The Guggenheim Foundation, The University of Tennessee School of Art, The Gotham Film & Media Institute, and Documentary Educational Resources.
Tickets can be purchased at https://bit.ly/3Jk2Nk0
Learn more about the film at https://www.kingcoalfilm.com/