–
Thursday, September 9th at noon           REGISTER HERE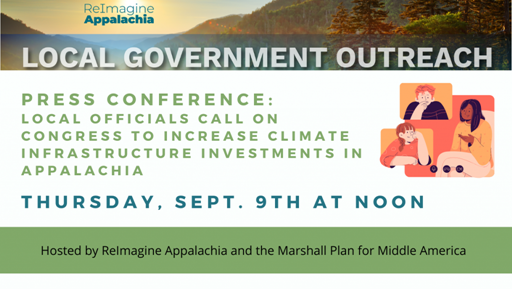 Local elected officials are standing up for their communities and demanding climate-forward infrastructure investments. From clean energy to reclaiming minelands, from main street to industry, officials need federal funding to create local ownership and shared prosperity. Workers and resources from Appalachia have powered the American economy for more than a century, and we need our due share of federal investment.
Please join us as we reveal the over 100 mayors, executives, commissioners, and legislators advocating for Congressmembers to adapt the Appalachian Infrastructure Plan to bring our region into the 21st Century economy.
Speakers include: 
Mayor Stephen Williams, Huntington, WV who will talk about how the ReImagine blueprint will increase quality of life and economic opportunity.
Patricia DeMarco, Vice President of the Forest Hills Borough Council who will talk about the transformational potential of a modern Civilian Conservation Corps and importance of strong labor standards in any federal investment.
Mayor Tito Brown, Youngtown, OH who will discuss the importance of innovative clean manufacturing, and how the Plan can bridge practical gaps in the transition to a 21st Century economy.
Plus other electeds from across the region will join us to urge Congress to prioritize Appalachian Climate Infrastructure investments.
Our local champions will reveal how billion-dollar federal and private investment in climate infrastructure can help our communities, and create a half million good jobs in our region. 
The latest infrastructure news in Washington is exciting news for our country – but these electeds know that local communities need to be at the table to make sure these resources create lasting change where we live. We hope you'll join us to hear how local elected officials are coming together to advocate for these ambitious investments.