–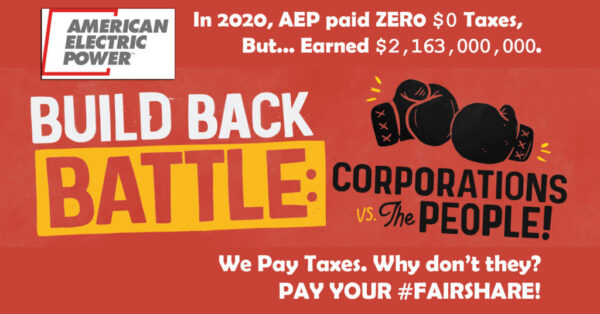 https://fb.me/e/22qxi8w4H
#SealTheDeal Day of Action
#BuildBackBetter
Join us this Thursday, Oct. 7th, at 4:30 PM outside AEP's offices at Laidley Tower, 500 Lee St E, Charleston, WV 25301, to demand that Corporations like AEP PAY THEIR FAIR SHARE like the rest of us.
Last year, AEP paid ZERO Taxes while earning over $2.16 Billion Dollars. They are but one of 55 corporations that earned millions/billions and paid no taxes.
Help us tell Congress, especially our Senators Manchin and Capito, to TAX WEALTH LIKE WORK. We, the working class of America, pay our fair share of taxes and we work hard. Corporations need to pay their fair share, too.
Join us and take Bold Action for a Better West Virginia.