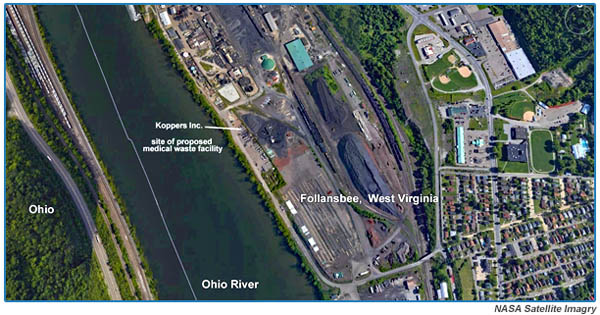 From the WV Chapter of the Sierra Club:
Should West Virginia become the dumping ground for medical waste that other states don't want? Please send comments to the WV Division of Air Quality to protect WV from a new source of air pollution. Comments should be sent by January 9 to edward.s.andrews@wv.gov.
Empire Diversified Energy, LLC wants to turn the former Koppers facility in Follansbee, WV (a small rust belt town on the Ohio River in the Northern Panhandle) into a disposal business for infectious medical waste. It would use pyrolysis, a closed, high heat system to convert the waste into fuel to be burned for energy. 
The permit application states that it WILL be accepting pathological/anatomical waste, human waste, blood and blood products, animal waste, chemical waste, etc. along with different types of plastics and metals, even couches and mattresses – so it may not be possible to optimize pyrolysis conditions for all these different type of waste products. The facility would emit Carbon monoxide, NOx, H2S, VOCs, particulates, and up to 2 TONS of Hazardous Air Pollutants each year (including heavy metals, carcinogens, dioxin, and others). The DEP admitted that this is the first of its kind in WV; in fact there are very few anywhere else in the world. EPA has a 'Call for Data' on these kinds of facilities since there is little existing data. 
Rhode Island rejected plans to build the facility there and has since banned this technology for medical waste. 
The Sierra Club urges that, because of the public health impacts of contaminated fine particulates, it will be essential to monitor these PM-2.5 particles continuously for the first two years of operation and evaluate these results every three months to determine whether operations can continue.
This is more than an air quality issue. For Sierra Club members, this is also an opportunity to fight for environmental justice by insisting that the permit be written and enforced in a way that would actually protect the health of neighbors who must breathe the air. Stand up for fellow West Virginians!
Tell WV Division of Air Quality To Protect Residents From Medical Waste Pollution
The deadline for written public comments has been extended to 5 p.m. Jan. 9, 2023.
Please send your comment to edward.s.andrews@wv.gov or West Virginia Department of Environmental Protection, Division of Air Quality, Attention: Edward Andrews, P.E.; 601 57th Street SE, Charleston, WV 25304. The subject line of your email should refer to Permit R13-3555.