–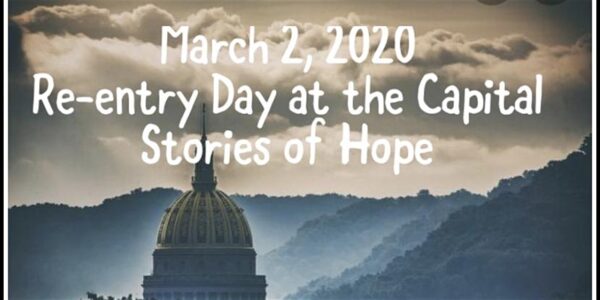 Please join Jobs and Hope, American Friends Service Committee, Call to Action for Racial Equality and other partner organizations at the Capitol on March 2nd as those positively impacted by policy changes, share their stories of hope and healing. Together we will lift up our voices for policies that treat West Virginia's substance abuse epidemic with compassion and treatment, not punishment and incarceration. We will stand together for second chances and a path forward for people in addiction, in recovery, and the children and families who are impacted by a criminal justice system that disproportionately impacts poor people and people of color. Please stand with the incarcerated, formerly incarcerated, people struggling with addiction – and their families – in the call for criminal justice reform in West Virginia. Together we will ask our legislators to be smart on crime, to invest in recovery not incarceration, and to listen to formerly incarcerated people when they say: "I am more than my conviction". Register online here. 
Schedule of events:
9 – 9:30 am Registration

9:30 – 10:30 am Press Conference in little rotunda East (outside Attorney General's office)

11 am Legislative meetings and visiting Senate and House floor session

12 pm Lunch on your own
If you'd like to be a sponsor of this event, if you're interested in setting up legislative meetings, or if you have any questions about the day, please contact Melanie Danielson at Melanie.Danielson@wvesc.org or 304-730-5390.