–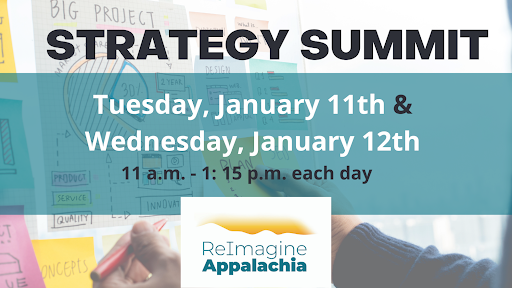 The IIJA Act and the American Rescue Plan will bring tremendous resources within reach of Appalachian communities – and the Build Back Better Act has the potential to bring billions more. How can Appalachian communities ensure that this new funding is used to build the bright and equitable future we deserve, and to ReImagine Appalachia?
We'll hear from experts in economic development, labor, climate and conservation, and racial and equity work about the opportunities – and the challenges – our region will see in 2022. 
Last year we convened through panels and workshops to help guide and create our coalition's 2021 priorities, vision and workplan, with 12 sessions and hundreds of attendees.
This year, we hope to receive more feedback and participation to ensure ReImagine Appalachia is creating a 2022 work plan that includes all Appalachian voices!
Please reach out to me here molly.updegrove@reimagineappalachia.org with any questions or if you want to get involved!