–
On Saturday, September 16th we gathered at Coonskin Park to celebrate our awardees, reflect on the work we've done and what's to come, and spend time with old and new friends. Catering was be provided by Phat Daddy's and music by Sandy Sowell & Jerry Collyard.
To complete the afternoon, the following civic awards were presented: *from left to right
Pam Nixon

– Thomas Knight Excalibur lifetime achievement award 

Mike Tony,

Charleston Gazette-Mail

reporter

 – Don Marsh & Paul Nyden Public Service award

Shalom Tazewell –

Si Galperin in Defense of Democracy award
Click here to Meet Our Awardees! 
Thank you to our attendees and sponsors for making this day and our work possible.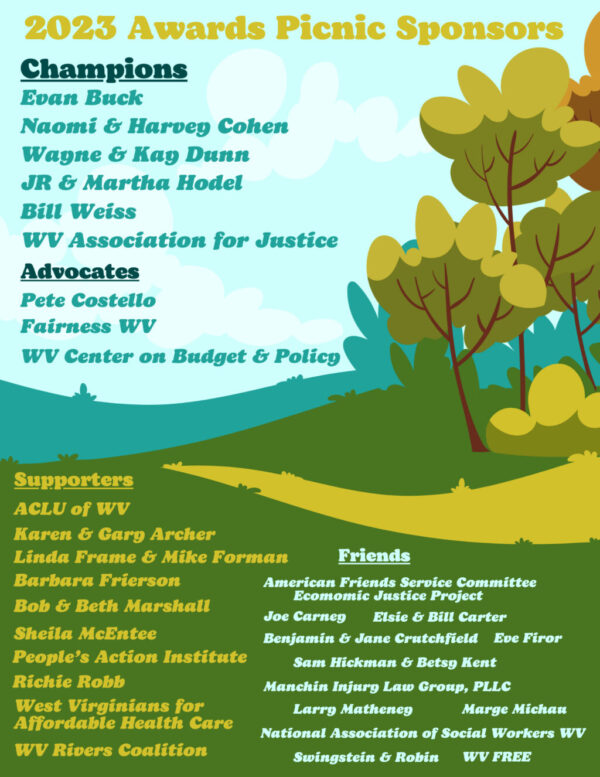 *Notice on IRS compliance: This was a joint fundraiser co-sponsored by WV Citizen Action Group and WV Citizen Action Education Fund (WV CAEF), WV CAG's 501(c)(3) sister organization. Costs and proceeds will be split based on the ratio of receipts to each organization. Contributions to WV CAG, a 501(c)(4) organization, are not tax-deductible because they support our advocacy and lobbying efforts. For tax purposes, donors may deduct the amount of all contributions to WV CAEF minus the value ($50 each) of any tickets USED by the donor. Contributions to WV CAEF will be used to support research and public education on progressive issues like health care for all, environmental justice, consumer protection and campaign finance reform. Contributors may write two separate checks to WV CAG and WV CAEF, or they may write one check to WV CAG and designate how funds should be distributed. THANK YOU FOR YOUR SUPPORT!