–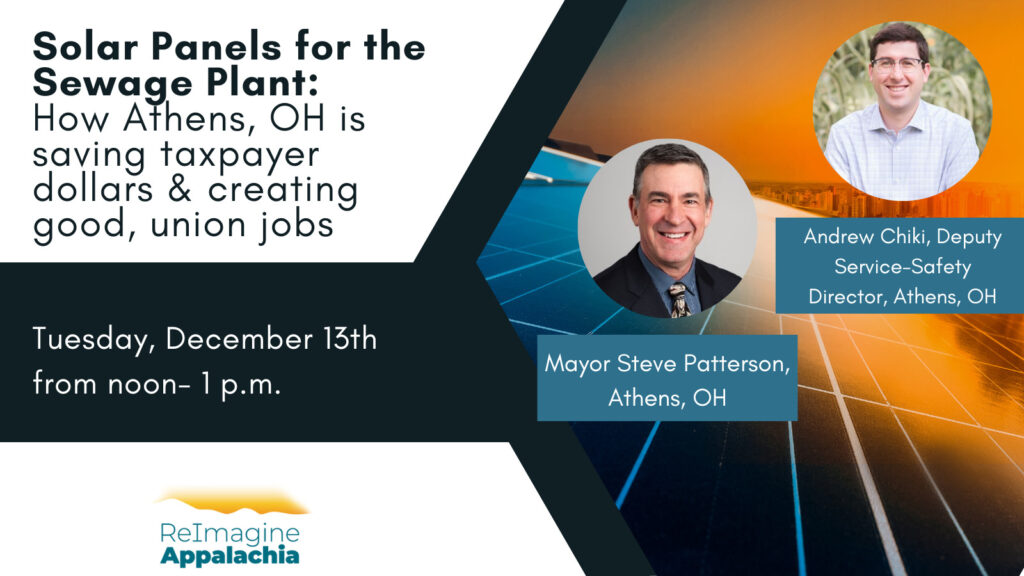 Athen's innovative large-scale solar project is one we should be paying attention to. From solar panels at the library field to canopies above parking lots at the city pool, it's a new model in Appalachian climate-friendly development. Leveraging private financing and public tax credits, the solar array comes at no cost to taxpayers, while reducing public energy costs and reducing over a billion (you read that right) pounds of carbon in the atmosphere over the next three decades.
All while creating good union jobs.
Sunny days are ahead in Appalachia – come and learn more on December 13th!
REGISTER HERE: https://us06web.zoom.us/meeting/register/tZUsceyrrz8pHdI8I5ImuI8UjjDRdTUwe2e_?emci=97a9284b-ff76-ed11-819c-000d3a9eb474&emdi=5b0e3edd-0777-ed11-819c-000d3a9eb474&ceid=22549566
Find ReImagine Appalachia on FaceBook here: https://fb.me/e/2iflt16JO