–
One of West Virginia's biggest strengths is it's people. This beautiful state is full of passionate folks doing work to keep people happy, healthy, and successful. That's one reason why, each year, we host an annual awards dinner and fundraiser.
This year we're honoring Paul Sheridan with the Don Marsh & Paul Nyden Public Service Award, and Loretta Young, with the Thomas A. Knight Excalibur Award. We're also recognizing the 2019 freshman class of progressive legislators (Senators Rich Lindsay & Bill Ihlenfeld and Delegates Sammi Brown, Amanda Estep-Burton, Evan Hansen, Cindy Lavendar-Bowe, Cody Thompson, Danielle Walker, & Lisa Zukoff) as our Rising Stars for their leadership on issues important to WV CAG and our allies. Click here to learn more about our awardees.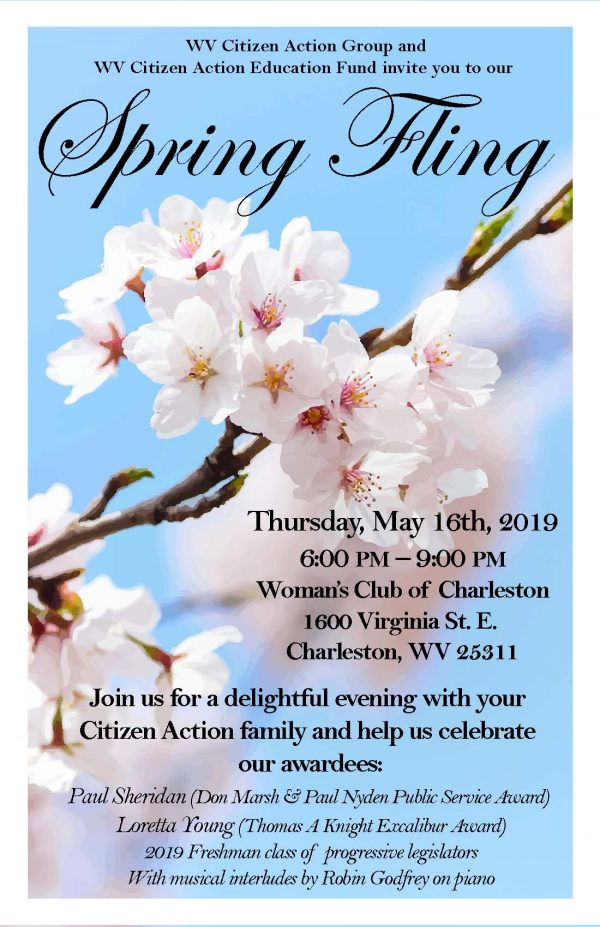 Our Spring Fling also raises funds for help WV Citizen Acton staff, members, and supporters throughout the state continue to fight for clean water, living wages, transparency in elections, and more. And WV Citizen Action is expanding our grassroots organizing presence which means more staff and more work to do. Our goal at this year's Spring Fling is to raise $25,000. Every penny will help our staff and partners build power and create change throughout the Mountain State! 
You can purchase tickets or become a sponsor at www.wvcag.org/awards or by sending a check to 1500 Dixie Street, Charleston, WV 25311 (see reply card below for ticket pricing and sponsorship levels).
Your evening will include:
Time to visit with old friends and make new ones
Buffet dinner catered by Whimsy Catering
Cash bar with beer & wine
Opportunities to bid on eclectic items in our silent auction
We look forward to seeing you May 16!