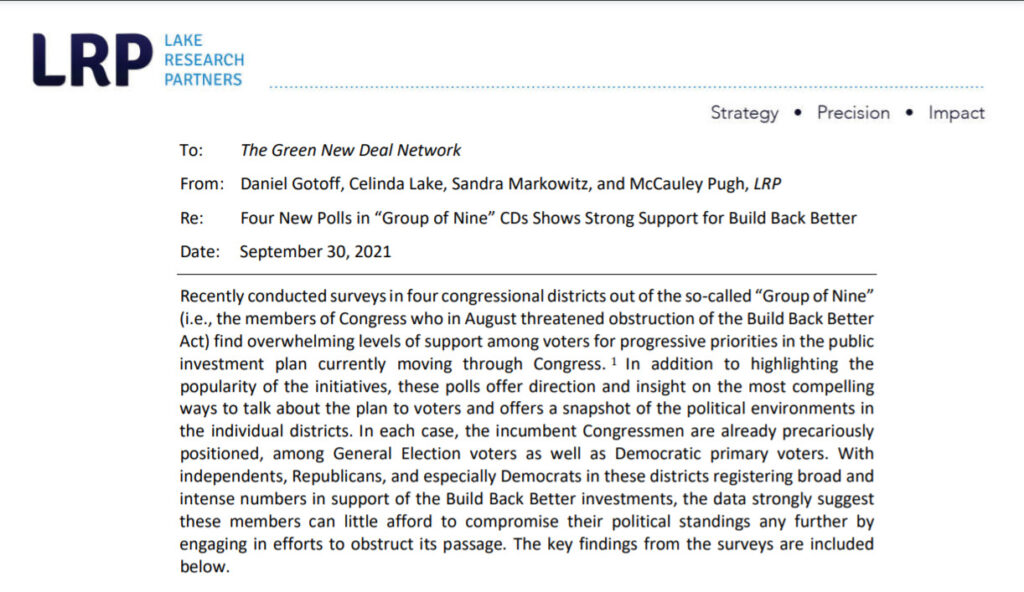 Lake Poll – https://www.politico.com/f/?id=0000017c-4e29-d47e-ab7e-de39512c0000
Recently conducted surveys in four congressional districts out of the so-called "Group of Nine" (i.e., the members of Congress who in August threatened obstruction of the Build Back Better Act) find overwhelming levels of support among voters for progressive priorities in the public investment plan currently moving through Congress.
In addition to highlighting the popularity of the initiatives, these polls offer direction and insight on the most compelling ways to talk about the plan to voters and offers a snapshot of the political environments in the individual districts. In each case, the incumbent Congressmen are already precariously positioned, among General Election voters as well as Democratic primary voters.
With independents, Republicans, and especially Democrats in these districts registering broad and intense numbers in support of the Build Back Better investments, the data strongly suggest these members can little afford to compromise their political standings any further by engaging in efforts to obstruct its passage.
More information is included in the document linked HERE.