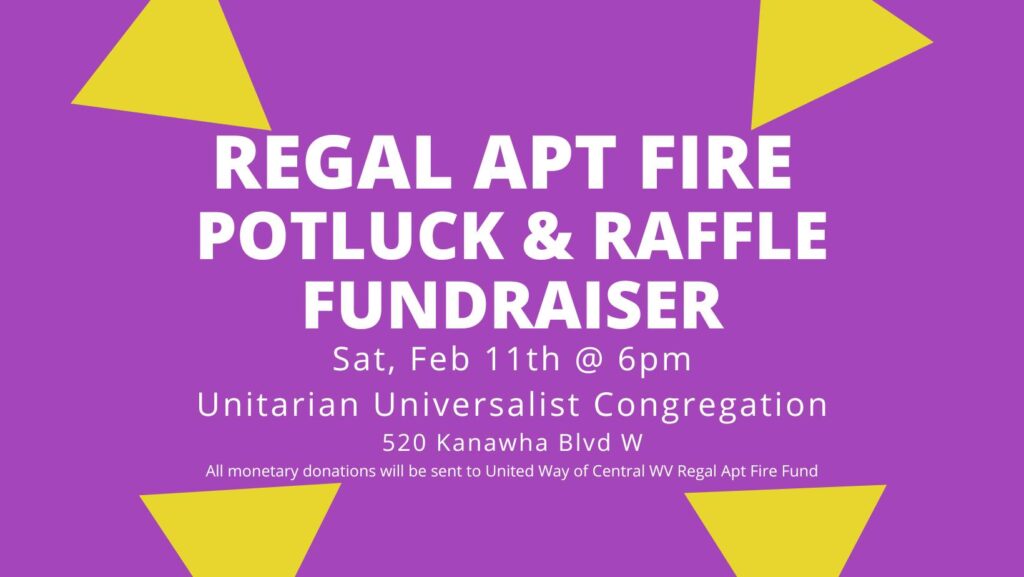 Join friends and neighbors to raise support for community members recovering from the Regal apt fire. This fundraiser event will be located at the Unitarian Universalist Congregation, 520 Kanawha Blvd W, Charleston, WV and will include a potluck dinner, raffle, and a 'cake walk'.
All monetary donations raised will be sent to the United Way of Central WV Regal Apt Fire Fund. You can donate to this fund via this page. 
Just make sure to write *Regal Apt. Fire* in the donor note:
https://www.unitedwaycwv.org/civicrm/contribute/transact?reset=1&id=1
If you'd like to bring a cake for the 'cake walk' fundraising activity, please do! If you have items for a raffle donation, please email
soarwv@gmail.com
. If you have ideas for catering, live music, or other activities or ways to collaborate, please email too.
Hosted by SOAR, Project MayDay, WVCAG, and friends.