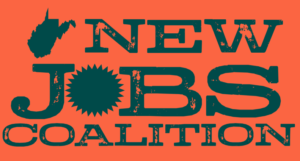 WE'RE HIRING!!!
For a FULL JOB DESCRIPTION and HOW TO APPLY, click on the job title and follow the link. To apply: Please contact hiring@newjobswv.org.
Want to help shape the future of WV? WV New Jobs Coalition has FOUR opportunities available to lead WV communities through a visioning process – lifting the voices of community members and helping them to lead work in the place they call home.
Rather than assuming we know what people need, then presenting our solutions, we want to hear
directly from residents. What are their individual stories? What are the everyday struggles people face? 
What would make their communities stronger? Are there federal or state resources and policy changes that can make a real difference in people's everyday lives?
We need your help to answer these questions and to make positive change in our state.
Coalition Coordinator (statewide) (full-time position)
● Scheduling and facilitating meetings and communications
● Reporting to coalition and funders
● Project Management for overall coalition work
● Plan community meetings with Assistant Visioning Project Coordinator, local groups and organizing fellows
● Conduct one-on-one conversations with community members and partners
● Media and social media outreach
● Attend and facilitate community meetings
Assistant Visioning Project Coordinator (statewide) (part-time position)
Collaborate with the WVNJC team to plan and implement the Visioning Project
● Assist local groups and organizing fellows in planning community meetings
● Conduct one-on-one conversations with community members and partners
● Media and social media outreach
● Attend and facilitate community meetings
WV Organizing Fellow – Regional (TWO fellowships – based in Northern Panhandle, Eastern Panhandle, North-Central, or Western West Virginia)
● Learn about community organizing
● Recruit community groups in assigned region
● Provide support for community groups in planning and hosting visioning meetings
● Organize a canvass
● Recruit volunteers
● Hold one-on-one conversations with community members