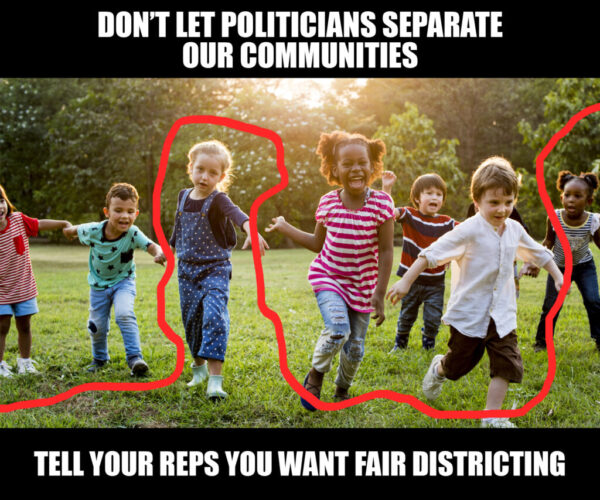 The Legislature's Joint Committee on Redistricting is hosting a series of public hearings around the state to allow West Virginians to weigh in on the process of redrawing the boundaries of legislative and congressional districts. This often overlooked, yet important part of our electoral process happens every 10 years after the US Census to account for changes in population.
The districts that are drawn this year will impact our lives for the next decade, and if they aren't drawn fairly our communities will be left without representation and certain voices will be silenced. That's why it's important to come together to speak out on fair districting so that our communities are whole and have equal resources to meet our needs. 
Monday, September 20, 2021, from 6:00 p.m. to 8:00 p.m. – for residents of current WV Congressional District 1 (Barbour, Brooke, Doddridge, Gilmer, Grant, Hancock, Harrison, Marion, Marshall, Mineral, Monongalia, Ohio, Pleasants, Preston, Ritchie, Taylor, Tucker, Tyler, Wetzel, and Wood Counties)
To speak at the virtual public hearing, you will need to use Microsoft Teams (video) or call in by phone (audio-only).
To sign up to receive the link or phone number, you must call 304-357-7880 from 10 a.m. to 4 p.m. on Friday, September 17 and provide the following information: your name, the organization or group you are representing (if any), your county of residence, the email address where you would like the link and phone number to be sent, your phone number, your preference to join the hearing by Teams or by phone, and the day on which you would like to speak.
If you do not register with a staff member, you will not be admitted to the hearing. You will receive detailed instructions in the email you receive after you register.
Full Hearing Schedule & Redistricting Information from the WV Legislature
Redistricting Information & Resources from the League of Women Voters of WV
Let's take advantage of the hearings to let legislators know that when it comes to our districts, we want a transparent process we can trust, where communities remain whole and where voters have an equal voice.
…