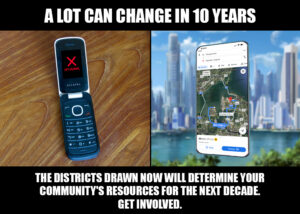 The WV Legislature's Joint Committee on Redistricting just finished a round of in-person public hearings to allow West Virginians to weigh in on the process of redrawing the boundaries of legislative and congressional districts. But there's still time to let legislators know that when it comes to our districts, we want a transparent process we can trust, where communities remain whole and where voters have an equal voice. 
Submit your written comments here or sign up to participate in one of three virtual public hearings scheduled for September 20, 21 and 22 (see details below on how to sign up).
These new maps will be used for the next 10 years and beyond, so it's critical that our elected leaders and the Redistricting Committee hear from us.
Fair Maps start with Fair Criteria for drawing district boundaries. 
Districts should be composed of populations of reasonably equal numbers of people – The Supreme Court has interpreted the Equal Protection Clause of the Fourteenth Amendment as providing the guarantee of equal population in the districts for each type of elected official. 
Districts shall comply with the United States Constitution and the Voting Rights Act – The Voting Rights Act (VRA) is a federal mandate that requires the protection of minority communities to be able to elect a candidate of their choice. 
District boundaries should respect communities of interest to the extent practicable – Communities of interest may be defined by visible geographic features; city, town, and county boundaries; similarities in social, cultural, ethnic, linguistic and economic interests; school districts and other relationships with local government. 
Districts should be contiguous and compact where possible – A district is contiguous when all parts of a district are connected. A district is compact when it is composed in a way that is not so dispersed that a representative cannot efficiently communicate and represent constituents.
The Legislature should follow an "incumbent blind" process. The rules for drawing the maps should ban favoring or discriminating against incumbents, candidates, or parties. Redistricting should also not take into account the address of any individual, including an officeholder. 
Fair Districting requires Public Participation and Transparency
The public hearing being held by the Joint Committee on Redistricting are a positive first step in what should be an open and transparent process, but with the final say left to lawmakers there's a risk they will put their political ambitions over the needs and interests of our communities. 
Legislative staff is already drafting maps and taking input from legislators on their districts.  This is being done outside of the public view.  The public will not even be able to see what requests were made by legislators or why. This is a dangerous lack of transparency that allows for legislators to manipulate maps to preserve their own political power and silence certain voices.  
When politicians draw maps to pick their voters, instead of the other way around, it's called gerrymandering. Lawmakers should not be allowed to have off-the-record communications with staff, representatives of parties or others regarding how the redistricting maps should be drawn. 
We must demand that the Legislature take steps to ensure that all map requests are public and that the public has a meaningful opportunity to review maps as they are being drafted. We should also demand timely disclosure of proposed maps to be voted upon, along with additional opportunities for public input before adoption. 
The districts we draw this year will shape our lives and our communities for the next decade.
When we draw fair maps, we influence the federal and state resources that are invested back to our communities — money for hospitals, schools, and transportation.
When we draw fair maps, our communities don't get carved up by politicians hungry for power, with only their own political interests in mind. 
When we draw the fair maps, our communities are represented by leaders who know us, who represent our needs, and who fight for the resources that our children and families need in order to thrive.
We only get one chance at this and the outcomes will last 10 years and beyond. Our collective action can make positive change and help shape this process. By joining together to speak out on fair districting, we can make our communities whole and deliver the resources they need for a decade to come.
Virtual Redistricting Public Hearing Dates and Protocol
Hearing Dates:
Monday, September 20, 2021, from 6:00 p.m. to 8:00 p.m. – for residents of current WV Congressional District 1 (Barbour, Brooke, Doddridge, Gilmer, Grant, Hancock, Harrison, Marion, Marshall, Mineral, Monongalia, Ohio, Pleasants, Preston, Ritchie, Taylor, Tucker, Tyler, Wetzel, and Wood Counties)
Tuesday, September 21, 2021, from 6:00 p.m. to 8:00 p.m. – for residents of current WV Congressional District 2 (Berkeley, Braxton, Calhoun, Clay, Hampshire, Hardy, Jackson, Jefferson, Kanawha, Lewis, Morgan, Pendleton, Putnam, Randolph, Roane, Upshur, and Wirt Counties)
Wednesday, September 22, 2021, from 6:00 p.m. to 8:00 p.m. – for residents of current WV Congressional District 3 (Boone, Cabell, Fayette, Greenbrier, Lincoln, Logan, Mason, McDowell, Mercer, Mingo, Monroe, Nicholas, Pocahontas, Raleigh, Summers, Wayne, Webster, and Wyoming Counties)
Sign-up Protocol:
If you would like to speak at the virtual public hearing, you will need to use Teams (video) or call in by phone (audio-only).
To sign up to receive the link or phone number, you must call 304-357-7880 from 10 a.m. to 4 p.m. on Friday, September 17 and provide the following information: your name, the organization or group you are representing (if any), your county of residence, the email address where you would like the link and phone number to be sent, your phone number, your preference to join the hearing by Teams or by phone, and the day on which you would like to speak. If you do not register with a staff member, you will not be admitted to the hearing. You will receive detailed instructions in the email you receive after you register.
You may sign in or call into the hearing starting at 5:45 p.m. 
PLEASE READ REQUIRED PROTOCOL BELOW PRIOR TO JOINING THE HEARING.
The virtual public hearing will be recorded and made available on the Joint Committee on Redistricting website.
If you are not interested in speaking but would like to watch the virtual public hearing online, or submit written comments you can do so here.