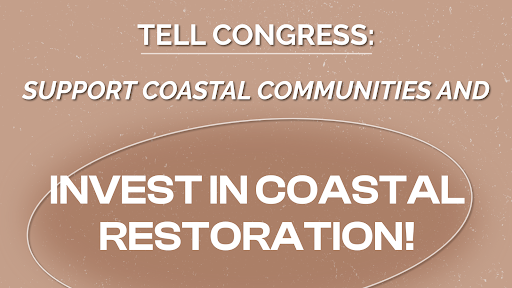 Climate change is the largest threat to the health and wellbeing of our oceans and coastal communities. This past year alone has brought devastating hurricanes, rapidly rising sea levels, and record-breaking heat waves to our coastlines.
Black, Brown, Indigenous, and low-income communities face the consequences of extreme weather first and worst. We must act now to protect our communities and our coastlines.
Investment in coastal restoration is vital to providing communities with much-needed protection from sea level rise and hurricanes while creating jobs and addressing environmental injustices.  
By investing $10 billion in coastal restoration, Congress can create local, good-paying jobs to stimulate coastal economies through projects like wetlands restoration and planting of seagrass. Already, coastal restoration projects have created thousands of jobs, many of which require a wide-ranging variety of skills and expertise, from construction workers and scientists to planners and engineers.
It is urgent that Congress pass a bill that makes the big, bold, and ambitious investments needed to tackle the climate crisis, achieve true environmental justice, and accelerate the transition to clean energy. This urgency includes investment in coastal restoration! To meet this moment, to heed the science, and to make good on President Biden's promises, Congress must act now to deliver on climate, justice, and jobs.
We can combat climate change, curb extreme weather, and protect coastal communities and economies at the same time. Join us and sign your name if you agree that we need bold investments in coastal restoration!