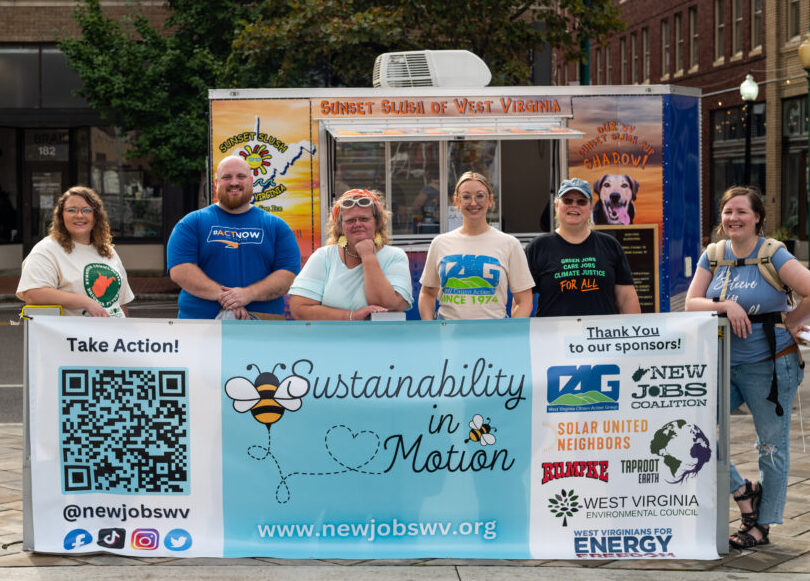 By Heather Gregory, WV New Jobs Coalition Fellow
October 14, 2023, marked a significant day for the City of Charleston, WV, as it hosted the first-ever "Sustainability in Motion" event. The event, held at Slack Plaza, brought together environmental enthusiasts, local businesses, and community members, all united under a common cause – sustainability and climate justice.
Speakers for the event included: Brandi Reece and Zach Shrewsbury of the WV New Jobs Coalition; the Honorable Steve Williams, Mayor of Huntington,WV; Xavier Walter of the Building Performance Association; Leah Barbor of Solar United Neighbors; Pam Nixon of People Concerned About Chemical Safety; Linda Frame of WV Environmental Council; Mark Tabbert of WV Citizens' Climate Lobby; and Honey May of West Virginians for Energy Freedom.
Supporters and sponsors for the event included: Bright Futures Now, Sierra Club, Solar United Neighbors, West Virginians for Energy Freedom, WV Citizen Action Group, Healthcare for All, Building Performance Association, WV Environmental Council, ReImagine Appalachia, WV Poor People's Campaign, Citizens' Climate Lobby, WV SOAR, WVDEP, Kanawha Valley Beekeepers Association, the Partnership for Furthering Arts & Education and Jali's Jewelry, Habitat for Humanity ReStore, and Hatfield Union Forestry Association.
The event was a vibrant mix of education, entertainment, and engagement. It was free, making it accessible for everyone in the community!
The event was not just about fun. At its core, it was a platform for education and awareness about sustainability and climate justice. Various organizations used this opportunity to share their missions, showcasing the steps they're taking to heal our planet and protect our pocketbooks. 
Perhaps the most intriguing part of the event was a presentation by Alex Eaves, the creator of the ReUse Box Truck. This innovative project features a box truck converted into a tiny house using all reused objects. Eaves's creation was on site for tours, giving attendees a firsthand look at the possibilities of sustainable living.
"Sustainability in Motion" was more than an event; it was a movement. It brought together different factions of our society, united in their commitment to a more sustainable and equitable future. The event not only amplified the voices calling for climate justice' but also celebrated the power of community in driving sustainable change.
Although the event was cut short due to heavy rains, the echoes of the event's success still resonate within our community. The inaugural "Sustainability in Motion" event was a testament to Charleston's commitment to sustainability and climate justice. It provided a platform for education, fostered a sense of community, and, most importantly, served as a reminder of our collective responsibility towards our planet.
As we look forward to the next "Sustainability in Motion" event, let's carry forward the spirit of sustainability and climate justice in our everyday actions. After all, every small step counts!
Until then, let's continue to embody the spirit of "Sustainability in Motion," focusing on how we can make a difference in our daily lives and in our community. Because when it comes to protecting our planet, every action matters.