Open House about Ethylene Oxide Health Impacts
Saturday, March 26 from 10 a.m. to 2 p.m.
Dunbar Recreation Center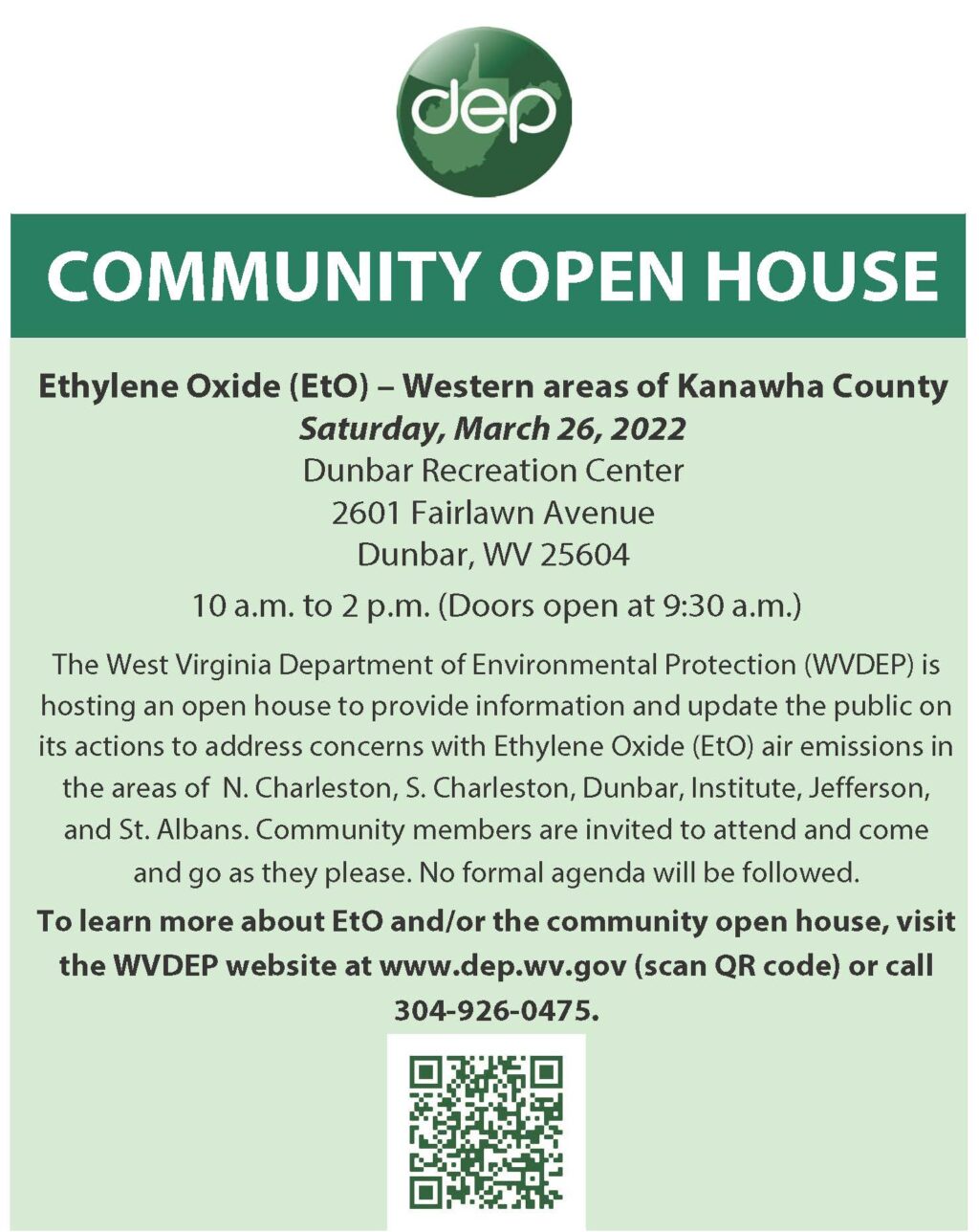 The WV Department of Environmental Protection is holding a community open house to provide information and update the public on its actions to address Ethylene Oxide (EtO) air emissions in the western areas of Kanawha County.
In September 2021, the WVDEP and EPA announced that there would be a series of four fence line air monitoring samples taken at chemical plants in Institute and South Charleston. The first samples of the series were taken in January, the second samples were taken in February, the third will be taken this month, with the fourth and final samples in April. The DEP has received the results from the January tests and is awaiting the results for February.
The open house is set for Saturday, March 26 from 10 a.m. to 2 p.m. at the Dunbar Recreation Center,  2601 Fairlawn Avenue in Dunbar. Doors open at 9:30 a.m.
Staff of WVDEP's Division of Air Quality, WVDHHR's Bureau for Public Health, and the US Environmental Protection Agency (EPA) will be available for individual conversations and to answer community members' questions.
A brief introduction and overview will start the forum at 10am and a second introduction and overview will be given around 12:30 p.m., for folks that come later in the day.
Community members are encouraged to attend and come and go as they please. No formal agenda will be followed.
Event details can be found on the  EtO webpage, as well as on Facebook (https://www.facebook.com/depwv) and Twitter (@DEPWV).
If you have any questions, comments, concerns, etc. about the event, please call 304-926-0475 or send an email to DEP.Comments@wv.gov.